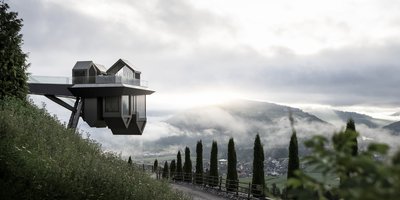 Sustainability
Modern architecture with wood
Building with wood has a rich tradition. And yet, today's timber projects were unthinkable just a few years ago. Things are very different today.
People in Europe were building houses out of wood as early as the twelfth century. And a few of them are still standing today. Wood has lots of positive characteristics. It is a renewable material and binds considerable CO2. In addition, wood is hard to beat in terms of thermal insulation. This not only saves energy, but also space: A 6.5cm-thick wall made of softwood, for example, provides as much insulation on average as walls made of 40cm-thick solid bricks. Building with prefabricated elements made of wood is also very fast, precise and easy to plan, making it cost-efficient too. Moreover, pure wood is ideal for recycling.
The climate crisis we face, coupled with the advantages of renewable raw materials, has led to the recent revival of wood as a valuable building material. A lot of time, money and incredible commitment have gone into research and development. And it has paid off. New and advanced methods as well as innovative technologies are giving contemporary architects and designers the chance to develop brand new ideas for wood as a building material. And the sky is the limit.
Wood can go mouldy and it is perishable. It does not do well with moisture, it is combustible and it is not very good at load bearing. As problems for building with wood, these are all now a thing of the past. As proven by multiple projects. Freiburg-based Sacker Architekten, for example, like to build the has for indoor swimming pools with a high percentage of wood as, unlike using steel in the roof, cross-laminated timber provides no surface for the chlorinated air to attack. With their slender cross sections and low weight, these timber roof components can also safely span the vast spaces above swimming pools. Optimally dimensioned ventilation systems and automatic humidity control create a constant indoor climate in which the wooden components can be used without hesitation.
Architect studio IBUKU is another one that prizes and utilizes wood's lightweight properties. IBUKU has designed projects like The Arc sports hall. The hall is part of an educational campus in Bali and consists of a complex bamboo construction with a series of intersecting 14m-high bamboo arches. These cover a span of 19m. Lattice shells, also made of bamboo, connect the arches. This makes it possible to build with slender structures that are extremely stable and at the same time very economical in terms of materials. The hall by IBUKU has won wide acclaim, including in the Iconic Building category at the Global Design and Architecture Awards 2021.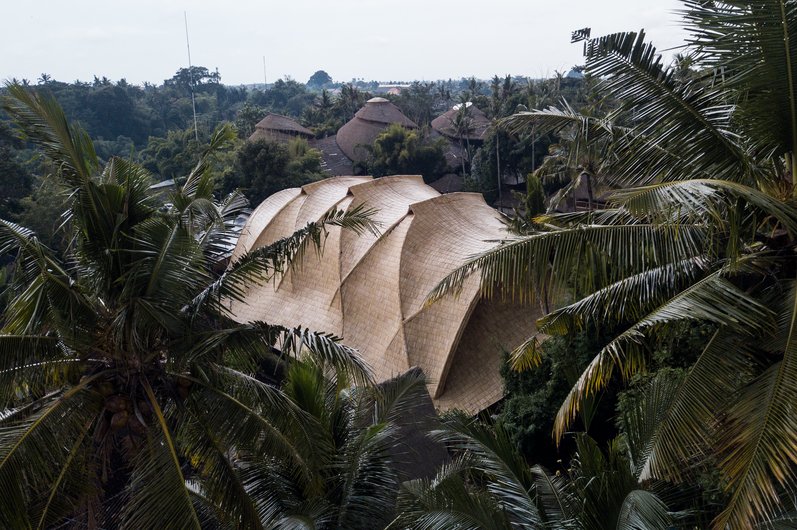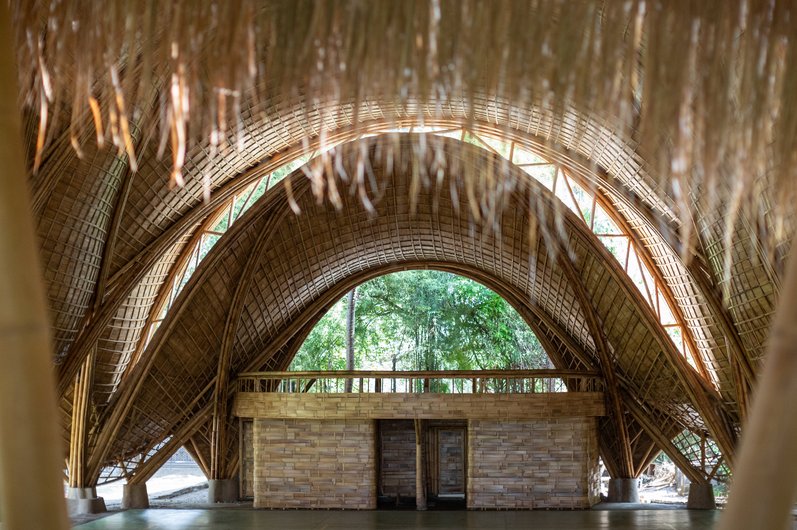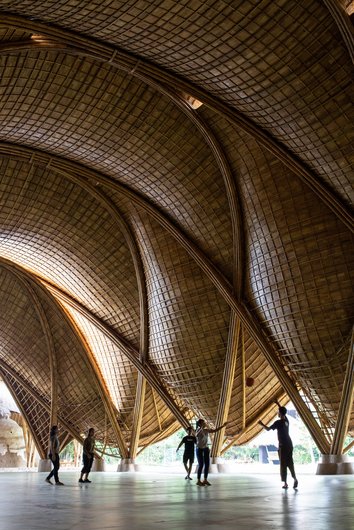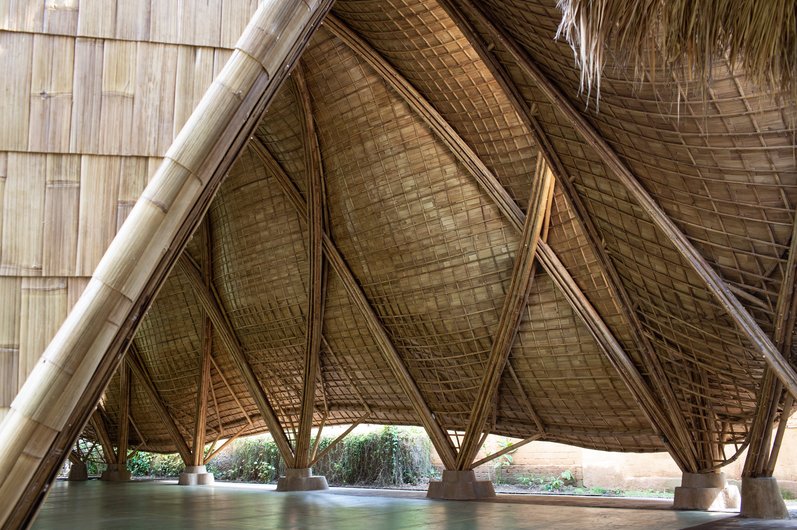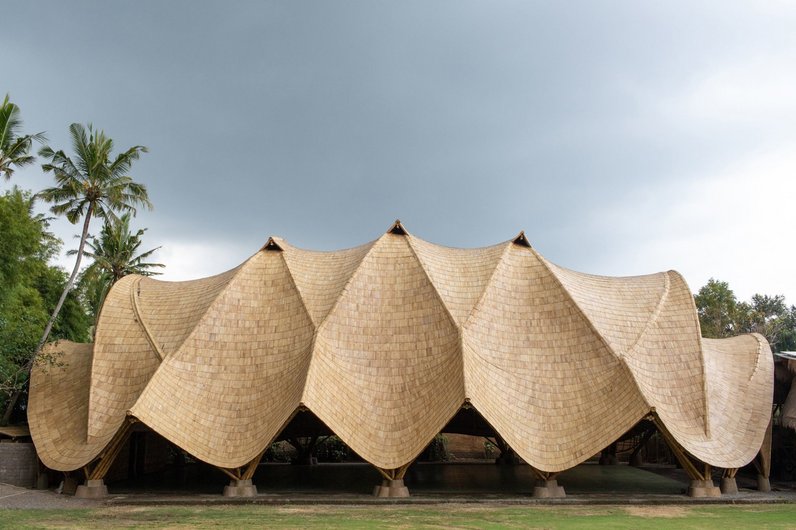 More and more high-rise buildings made of wood are also springing up worldwide. In Hamburg's HafenCity, for example, In Hamburg's HafenCity, for example, the project developer GARBE Immobilien-Projekte has been building Germany's tallest timber hybrid high-rise, the roots, since November 2020. It has 19 floors – of which 16 rely on timber construction – and stands at a height of approx. 65m. Oevermann, a PORR company, is responsible for the reinforced concrete shell. The strong load-bearing exterior walls are being built using prefabricated elements. Together with solid timber ceilings and a load-bearing inner wall ring, they form the primary load-bearing structure of the tower. The glass façade is primarily for sound insulation, but also provides weather protection. A total of around 5,500m3 of structural wood will be used for the high-rise building including half-timbered building. The project was designed by the Hamburg architects Störmer Murphy and Partners GbR.
In Sydney, a 180m-high tower is set to be built by 2026 – with 39 storeys and using a wood-hybrid construction method. Following the plans of the New York architects SHoP and Australian architects BVN, the wooden components will be held up by a steel skeleton and protected by a steel and glass facade.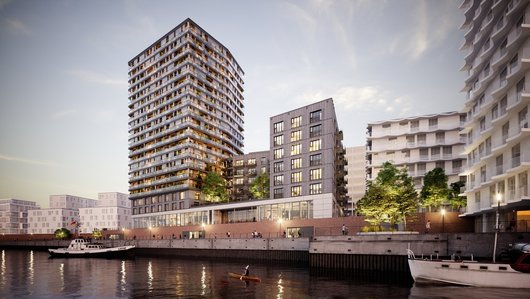 Tradition and modernity come together
In the southern Chinese province of Guangdong, there is a long tradition of wooden bridges. Rapid population growth and the related urbanisation meant a rapid expansion of the infrastructure was needed. LUO Studio has realised a new 25m-long bridge here – and, in keeping with local traditions, it is predominantly made of wood. The support structure consists of three parallel arched girders; the covered corridor protects passers-by from heat and rain. Metal panels on the outside protect the wooden construction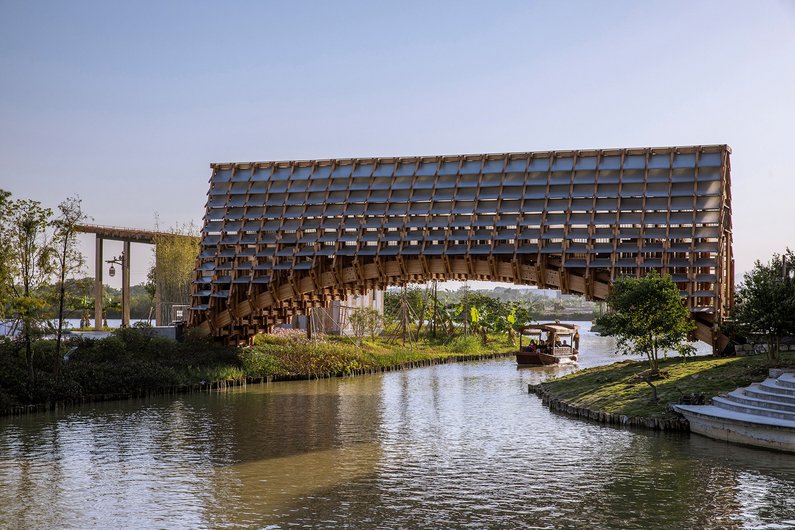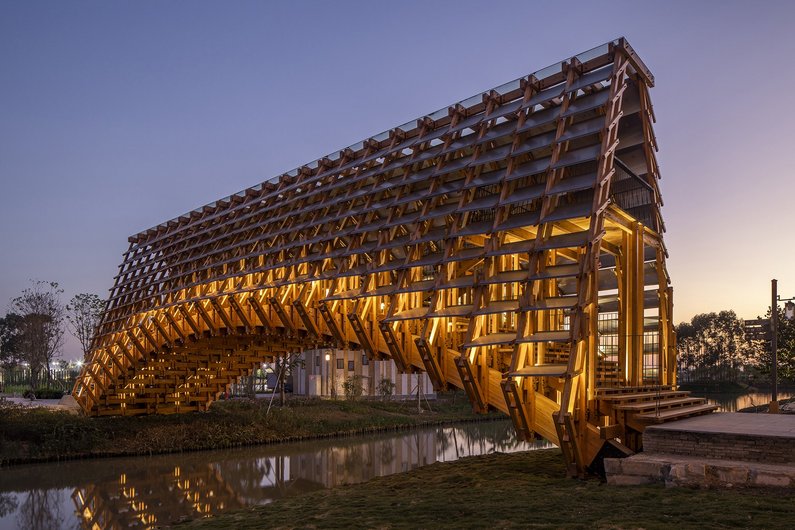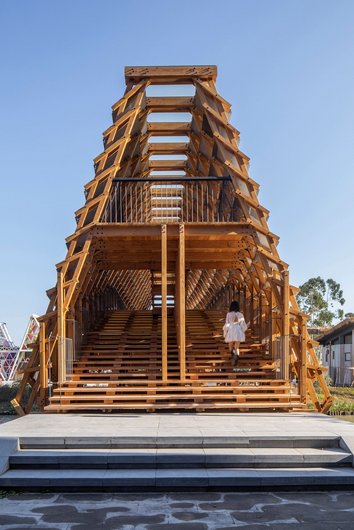 Architect studioHenning Larsen, on the other hand, has designed the first new church building in Copenhagen for more than 30 years. The site in Copenhagen's Ørestad district is known for its expressive, partly experimental architecture. The new church will be built of wood. "Building with wood and using the power of light was the most obvious solution – for the climate, for the context and for the community", said Jacob Kurek, Global Design Director at Henning Larsen. "Our goal was to create a sustainable church that stands on its own and contributes to the tradition of experimentation with the urban environment in Ørestad", added Nina la Cour Sell, Design Director at Henning Larsen. Construction is set to begin in 2024.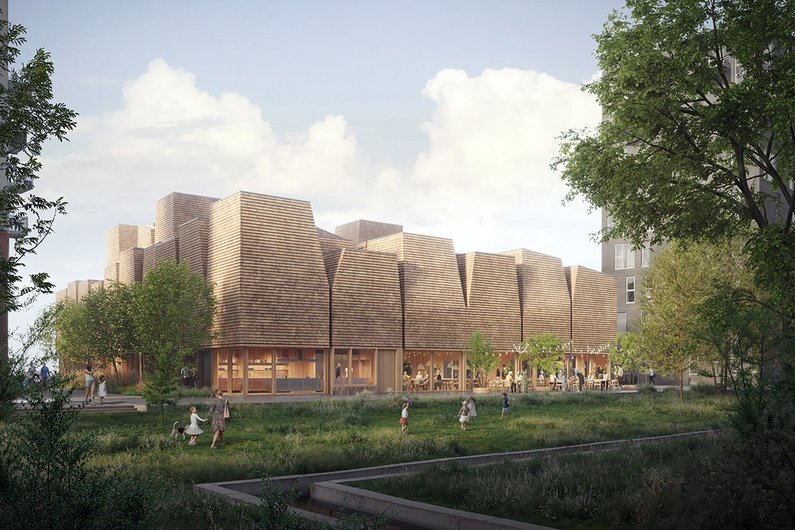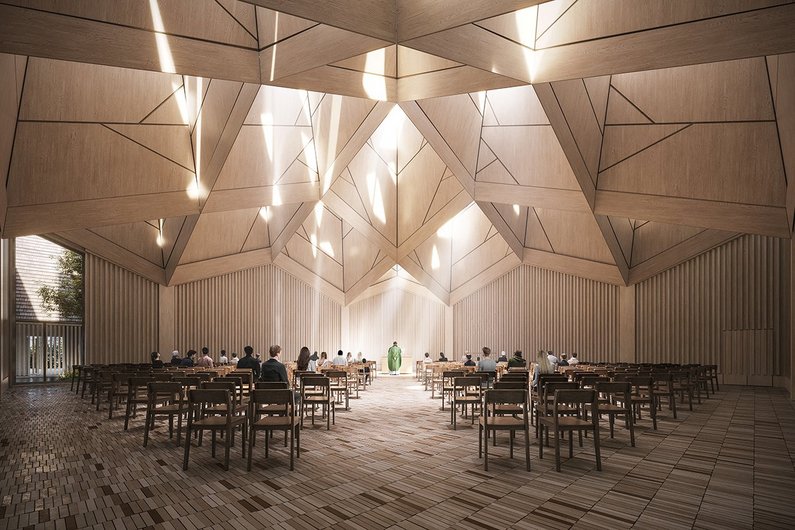 From wellness temple to city quarter
Aesthetics and sustainability were also decisive factors when planning the wellness area of the Alpine Panorama Hubertus Hotel in South Tyrol. NOA* architects created a two-storey wellness platform with pool and sauna that floats freely in the landscape, 15m above the ground. This is made possible by a lightweight construction consisting of several aluminium panels on a steel frame. Two columns clad in larch wood support the platform. A pool is located in the upper area. A cosy sauna area is nestled in the seemingly overhead hanging cottages below. In the relaxation room, a floor of white oiled oak provides a natural feel-good atmosphere. In this project, wood is not used as a load-bearing building material, but rather as a discreet aesthetic highlight.
A project on a completely different scale is being realised in Milan. A new city quarter, the West Gate, is to be built on the former EXPO site by 2032. Covering an area of 300,000m², it will be home to Italy's tallest timber building as well as numerous residential, leisure and office buildings made of wood. The high degree of prefabrication, innovative design options, and sustainability considerations convinced the builders to rely predominantly on wood as an innovative building material. And one that is also steeped in tradition.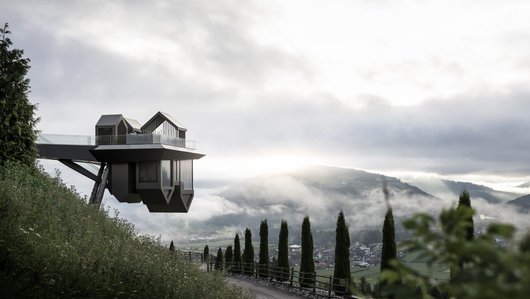 … that around one cubic metre of wood grows in Austria's forests every second? This means it takes just 40 seconds to grow the amount of wood needed for a one-family home.
... that every cubic metre of wood used binds about one tonne of CO2?
... that 'the roots' is responsible for 31% less CO₂ than conventional construction methods? This corresponds to a total of 3,520 tonnes of CO₂ saved.