Best Place to Work
"Come to the construction site, it's cool here."
Construction manager Eva Schleifenlehner tells us how she found her path and where it led her. What she likes about her job, and how to get women excited about careers in construction.
How did you become a PORRian?
I've been in civil engineering at PORR in Zell am See as a construction supervisor for six years. I'm actually from Vienna, where I also studied at the University of Natural Resources and Life Sciences (BOKU), specifically cultural technology and water management. After university, I worked in a planning office, but I didn't want to sit at a computer all day long. I came to the Pinzgau region as a ski instructor. I stayed here, looked for a job and found one at Teerag-Asdag, which then merged with PORR Bau GmbH. I started as a construction technician, but I became a construction supervisor quite quickly.
Have you always wanted to work in construction?
I used to want to be a teacher; I was very interested in geography. But then I discovered my passion for science and technology. I was able to combine them well in my studies at BOKU. To this day I'm still a ski instructor at my in-laws' ski school. But I also used to supervise groups of kids on language trips, for example, and studied abroad. It's important to try a lot of things. That's the only way to find your path.
And yours led you to PORR.
Exactly. I had a very liberal upbringing; my dad was an engineer, and it was quite clear: if I want to do something technical, I can. Gender differences haven't been part of my experience. All that mattered was finding a job where I could make a living and have fun. And I found one.
Do you perceive such differences now? Or to put it another way: What has your experience been like as a woman in construction?
As a woman in construction, you stand out for sure, but I'm not sensitive to that. Many women are strong communicators and team players. They pick up on almost everything. For instance, when conflict arises at the construction site, I notice straight away and am able to defuse it quickly. But in Salzburg, I'm one of the few female construction supervisors. It's a cool job; there's a lot of variety. I think it would be great if there were more women in construction.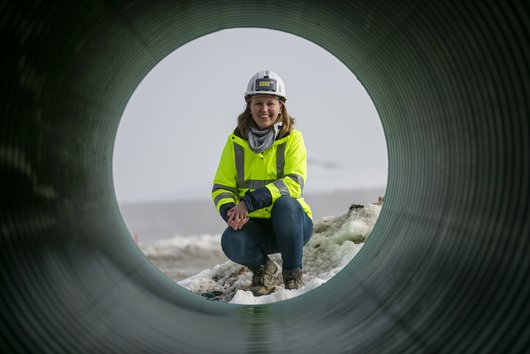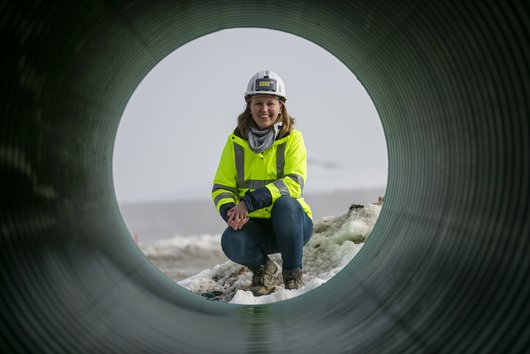 How can we get women excited about it?
It's important to be a role model. I network inside and outside PORR to show people: "Hey girls, come to the construction site, it's cool here." PORR is very good at supporting a work–life balance. For women, it's important to understand that they can still work in construction if they have a family. And that they can come back after maternity leave. In general, I think the construction industry could value work–life balance more. And personally, I think it would be great if there were even more opportunities for advancement.
How to you find the balance between work and life?
So much is going on right now – sometimes you feel stretched to your limits. But pushing those limits is just part of the job. My partner is very supportive; I often talk about work with him to process my thoughts. Overtime is also part of the package. But especially during the pandemic, it's obviously great to have a good, secure job. Nonetheless, sometimes you still need to set strict boundaries and say no. Because having a balanced life also allows you to take more on. And skiing is a good source of balance for me. As a ski instructor, I get some fresh air, I get to work on my people skills, and I get to teach people something. I love helping with events in town, even if the follow-up meetings sometimes go on a while. I also like to bake and spend a lot of time in the garden or with our two cats. Never a dull moment.
What about your profession do you particularly like?
The team. I can rely completely on my lads. Often you get into this mode of putting out fires and start thinking: everything's chaotic, everything's going wrong. But that's exactly what's so challenging: every day is different. You always have to be flexible, have plans B, C, D and E ready, bring many different sides together and constantly be organising and optimising. I like that a lot. Of course, there's no job where everything's always great. But there's something to be said for being able to stand in front of a building and say: We made that. That's a cool feeling.
In conclusion: Which PORR principle is especially important for you?
Pioneering spirit. You have to be open-minded – try out new things and explore. That's how I found my path. Recognition is also very important. Communication with everyone on equal terms is essential. As is honest, constructive feedback. That way, you don't get stuck in one place, and you can continue to develop.