Sustainability
"Everyone deserves quality"
Sustainability is his trademark. He makes the world a better place. And he does it in areas where many might not even look. Architect and Berliner-at-heart Diébédo Francis Kéré takes centre stage.
The goal of Diébédo Francis Kérés is to improve people's quality of living with his projects and safeguard it long term. "Everyone deserves quality, everyone deserves luxury, and everyone deserves comfort. We are all interconnected and any concerns about the climate, democracy and dwindling resources affect all of us", the architect asserts. Massive dedication to social justice is evident in every one of his masterful architectural undertakings.
Sustainable, natural and clever
Using local materials and smart building structures, Kéré creates high-quality infrastructure for the locals in climatically challenging regions. Whether it's a school, hospital or residential complex – Kéré makes the most of locally sourced natural resources in his buildings without destroying the habitat. Sometimes, for example, the architect creates canopies from fast-growing eucalyptus wood to provide shade; in other projects, they are used to build screens or windbreaks. Light and shade are used equally for structure, tempering and aesthetics. All building materials are used in a way that is creative, effective and clever. The architect is always very keen to get the local community involved in the projects.
For the Gando Primary School in Burkina Faso, for example, Kéré took clay from the region and mixed it with cement, thereby optimising the bricks with bioclimatic thermal mass. This allows the cooler air to be retained indoors, with the heat able to escape through the brick ceiling and wide, overhanging, raised roof. The air circulates without the energy-guzzling use of electric air conditioning. During the construction of the school building in 2002, Francis Kéré also ensured the training and fair use of local workers. Since then, the school has been expanded several times – and the number of pupils has rocketed from 120 when it opened to 700 today.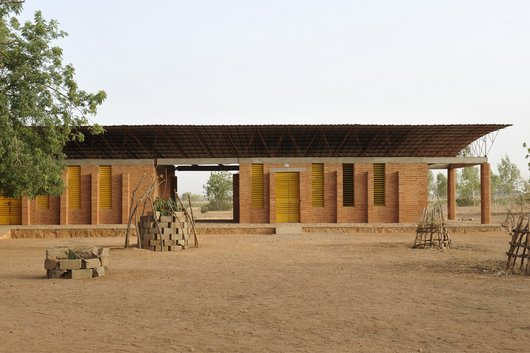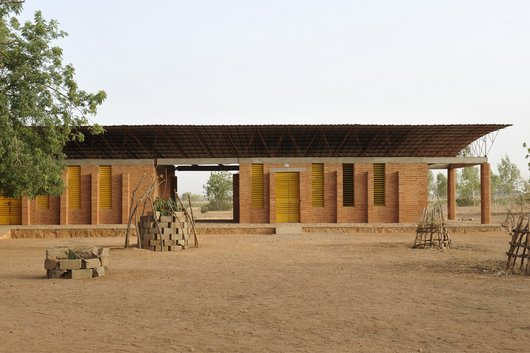 For the earth and the people
Tom Pritzker, Chairman of the Hyatt Foundation, is adamant: "Francis Kéré is doing pioneering work in architecture – work that is sustainable for the earth and those who inhabit it – in countries where resources are extremely scarce. He is both architect and servant in equal measure and has improved the lives and experiences of countless citizens in a region of the world that is often forgotten". In 2005, Diébédo Francis Kéré opened his architecture studio in Berlin. He founded the Kéré Foundation as early as 1998 in order to support the people of Gando in Burkina Faso.
Nobel prize for architecture
In recognition of his clever design ideas and social engagement, the architect was awarded the renowned Pritzker Prize in 2022. The jury considered Kéré's trademarks to be sustainable design and "poetic expression with light". Winning the Pritzker Prize puts the architect in good company with people like Toyo Ito, Jean Nouvel, Zaha Hadid or Norman Foster and Renzo Piano.
The international award is presented every year to one or more living architects for significant achievements. It was established in 1979 by Chicago's Pritzker family through their Hyatt Foundation and is considered the highest award for contemporary architecture, virtually the 'Nobel Prize for Architecture'.