Best Place to Work
Road construction: Building together, growing together
The DN5 connects Bucharest with Bulgaria. PORR was contracted to construct a bypass and connecting road just before the border. A project manager reports.
author:
Carvalho Lopes Fernando Jorge
It's cool to be a construction engineer. It was particularly cool in the nineties in Portugal, my homeland. At that time, there was a boom in infrastructure construction projects. As a child, I thought it was a great profession to be in. I also wanted to be an architect, but because of my passion for mathematics and physics, I decided to train as a construction engineer instead. Every day, I am excited to put the theories I studied into practice on real-life construction projects. It's great fun to work with people, build teams, determine strategies, and always, always enjoy new experiences. Every project has its own fascination. I had lived and worked in five different countries by September 2020 when I joined PORR in Romania. My first project was the renovation of the runway at the Henri Coanda international airport in Bucharest. That project was then closely followed by the construction of this bypass and connecting road.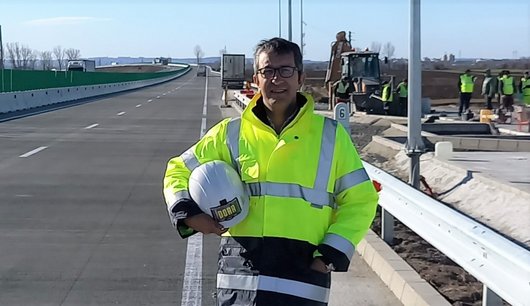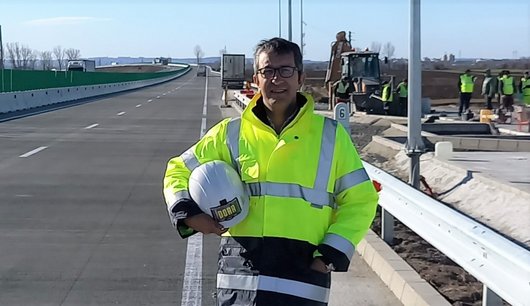 The DN5 runs south from Bucharest towards the Bulgarian border. The bypass and connecting road we constructed branches off the DN5 at a roundabout, continues to the south, and intersects the DN5 and the DJ507 at another roundabout. After about 5.5km, this road meets up with the Unirii road – which was extended by about 615m with two lanes in each direction – at the existing roundabout. This project significantly reduced traffic volume, and therefore noise and CO2 emissions, in the surrounding area. Romanian road construction projects traditionally involve asphalt paving. The last concrete-surfaced road in the country was constructed more than 15 years ago. Nonetheless, their experience with asphalt paving has not, so far, been satisfactory. We wanted to change the general view with our concrete road surface. The schedule was very tight, and our out-of-the-box solution demanded that little bit extra from everyone in the team – hard work, endurance, resilience, and commitment – but the results were very good.
We can be very proud: We worked very well together. And so we managed to complete the project ahead of schedule - five months ahead. Naturally, we also came in under budget and produced a top-quality end result. We enjoyed the opportunity to grow as a team and work closely together. Now, we're ready for anything. As with every successful project, we learned a lot and gained valuable experience