Sustainability
SKYSAWA: A skyscraper for a mermaid
Built in record time and sustainably: PORR has realised the SKYSAWA office and commercial complex in Warsaw in just three years. Energy-efficient solutions included.
A total area of 40,000m². And next to a 40m-high building, a 155m-high skyscraper with 40 floors above ground. Plus a direct connection to the metro station. This is SKYSAWA. PORR built the office and commercial complex in the centre of the Polish capital in just 36 months. And designed the entire construction process around the principles of sustainable development. That's why both parts of the building have been awarded the highest interim certificate under the BREEAM assessment system, short for Building Research Establishment Environmental Assessment Methodology, originally from the UK.
Sawa is the name of a mermaid with whom the fisherman Wars fell in love. And Sawa fell in love with him too. Her scales fell off, she grew legs, and the two lived happily ever after. Incidentally, the name of the Polish capital also comes from this legend. And here, from June 2019 to June 2022 in Warsaw, PORR has built a tower stretching into the sky.
SKYSAWA is the city's first "pencil building" – a skyscraper with a small storey cross-section. It only has an area of 400m on the upper floors. The construction work on the section of the tower above ground took just one year in all. PORR erected floors 17 to 40 in 150 days. Construction manager Michał Kacperowski explains how: "By using an advanced shaft structure, in which a large, complex shaft is divided into two parts, it was possible to achieve a pace of four days for each half shaft. The structure of the slab, which is divided into three sections, also followed on from the core to the next floor in a four-day cycle. Maintaining such a pace systematically, the construction rose by 5 storeys in 1 month, setting a record pace in the history of the construction of Polish skyscrapers".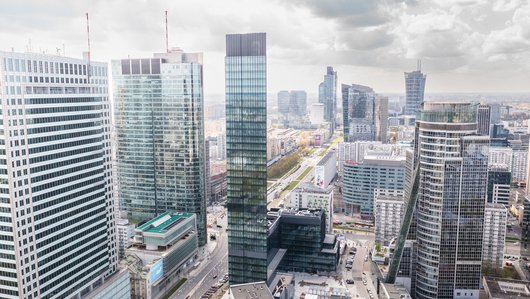 Sustainable, highly efficient, outstanding
Solar collectors, heat recovery and rainwater recovery systems: SKYSAWA delivers highly efficient solutions that reduce energy and water consumption. Even at the design stage, attention was paid not only to energy efficiency and the needs of the users – protecting the city's biodiversity was a priority too. And the construction work itself was also sustainable. PORR chose to use locally produced materials and checked all of them for their environmental compatibility. The amount of waste was minimised, water and energy consumption were reduced through things like rainwater recovery, transport was optimised and the carbon footprint was smaller as a result. Both buildings that make up SKYSAWA have been awarded the BREEAM interim certificate and classified as Outstanding. This project thereby stands as a prime example of how companies need to build today to make the future one worth living in.
From realisation to the finished project: SKYSAWA is sustainable through and through.
Project name

SKYSAWA office and commercial complex

Client

Polski Holding Nieruchomości

Contractor

PORR SA (lead), TKT Engineering, ELIN

Start of construction works

June 2019

Completion

June 2022