Sustainability
Top 7: Green facades
Green facades improve the climate and air quality, they insulate temperatures as well as noise. And they enrich every cityscape and landscape.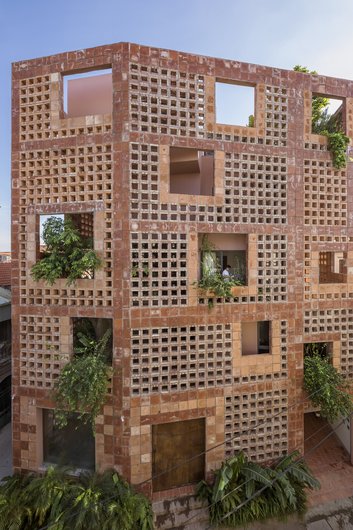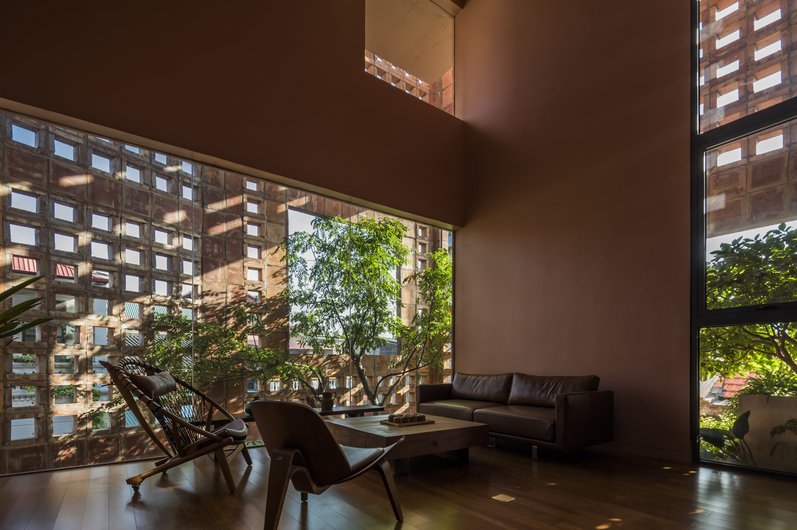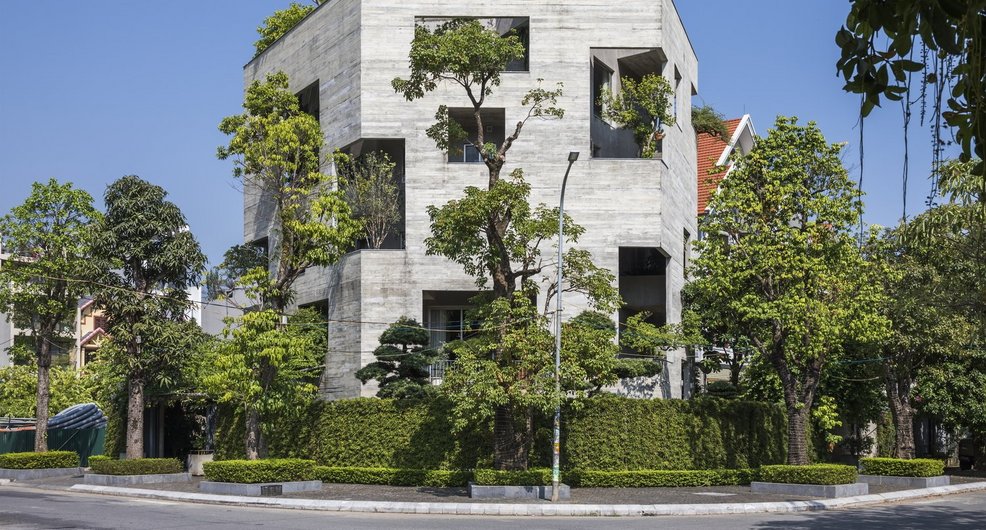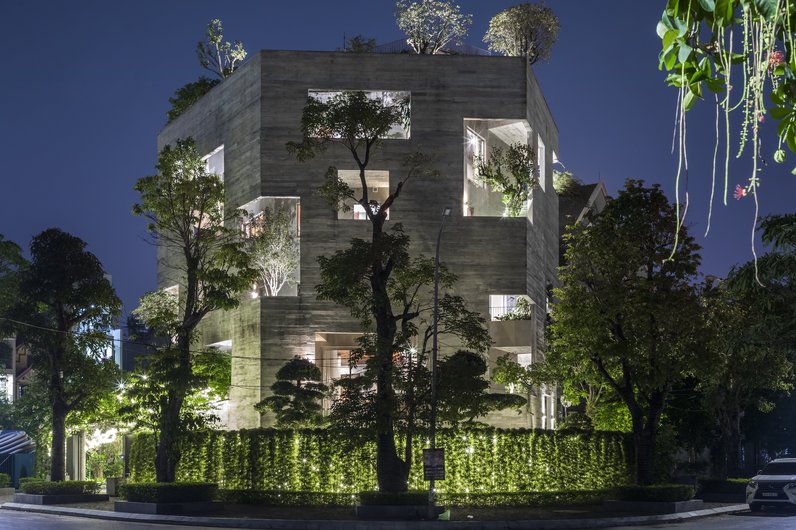 With its Houses for Trees, VTN Architects has launched a series of housing projects with an ambitious goal: To bring green space back to the city and "make as much green as there was in the original landscape to help people live healthier lives in the city". The main concept behind these buildings is to create space where people can live in cities as if in a forest. A sustainable home "that exists in harmony with its surroundings and tries to become part of its landscape". In the process, interior and semi-exterior spaces are filled with an array of plants. As part of the double-shell green facade, deep shade protects against the hot tropical climate and against noise. The residents constantly feel the freshness of the greenery as they go about their daily activities.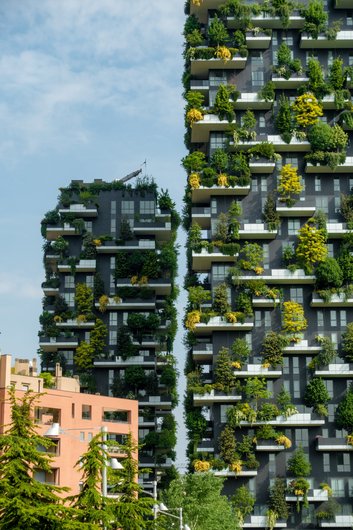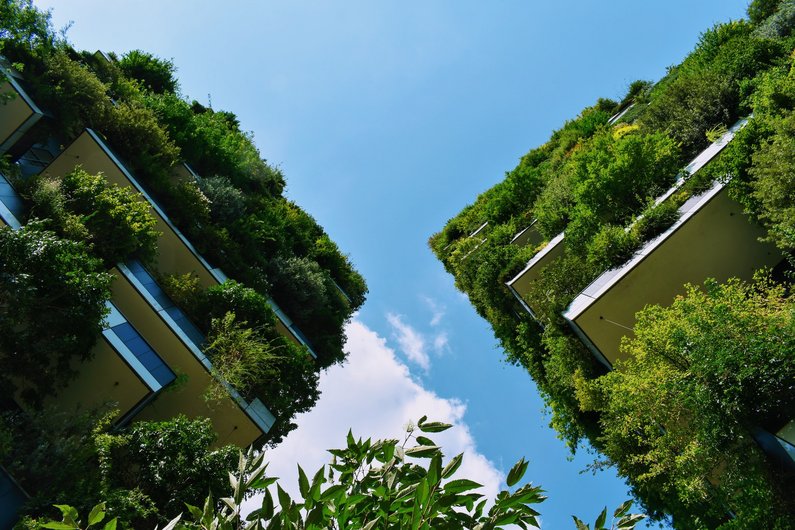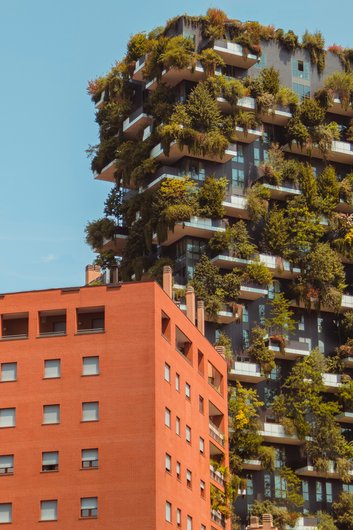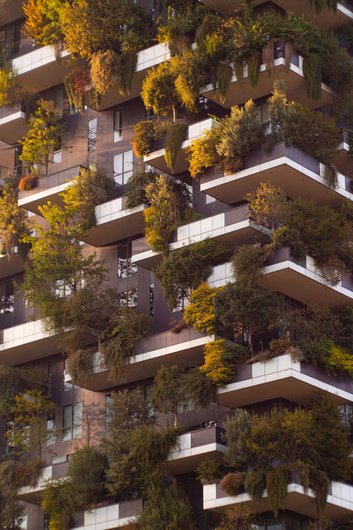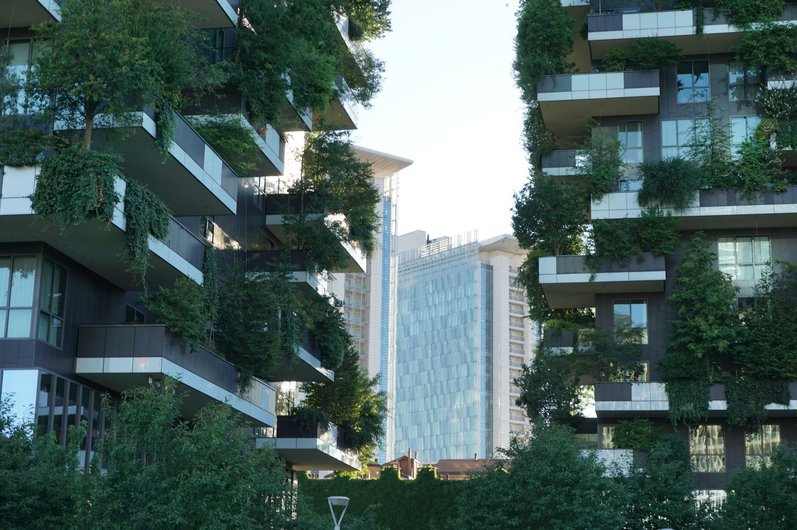 The two residential towers designed by architect Stefano Boeri live up to their name. After all, Bosco Verticale means vertical forest. Boeri has actually planted around 800 trees, 4,500 shrubs and more than 15,000 other green plants and herbs on around 400 terraces, thereby creating a new, small biosphere. The Bosco Verticale project in Milan was completed in 2014. Since then, its plants have been absorbing around 30,000 kg CO2 each year. In 2015 Bosco Verticale was named the world's best tall building by the CTBUH Council on Tall Buildings and Urban Habitat. With the vertical forest, Boeri has created a stunning example of how to successfully green a facade.
5. Green old building facades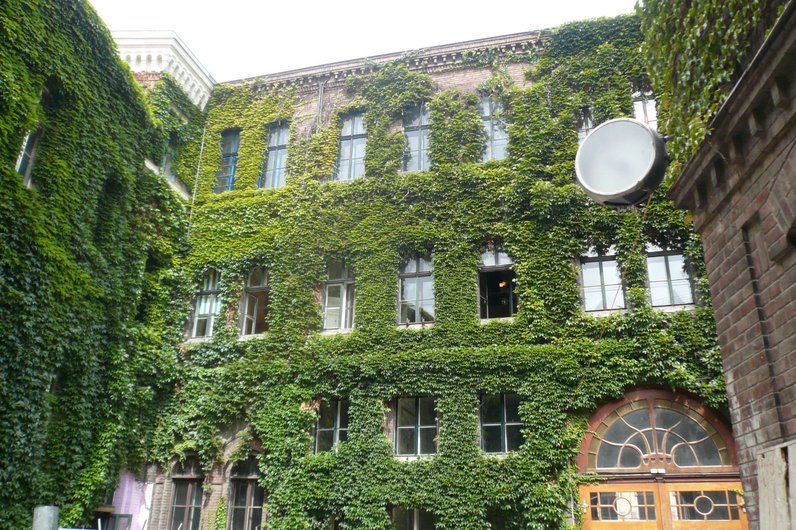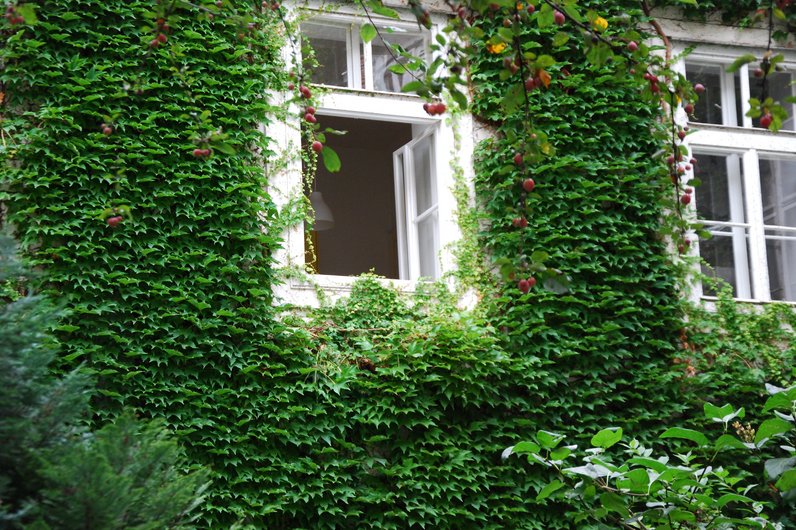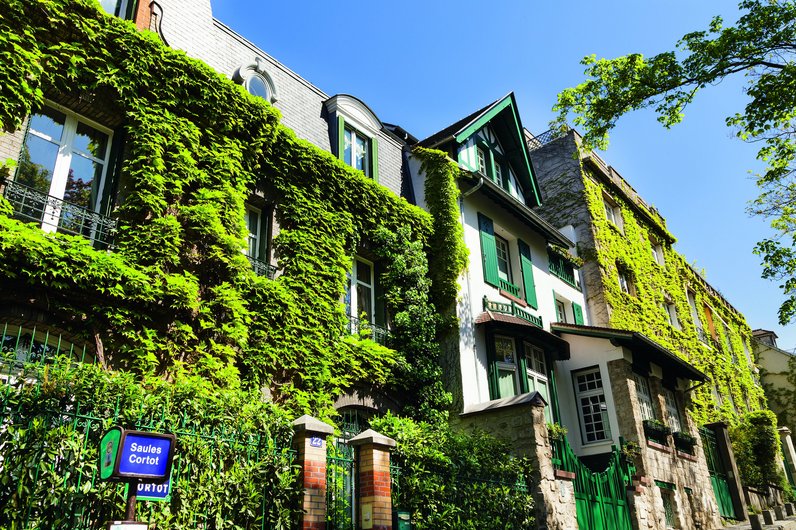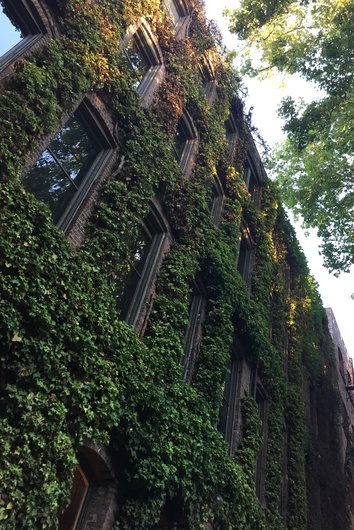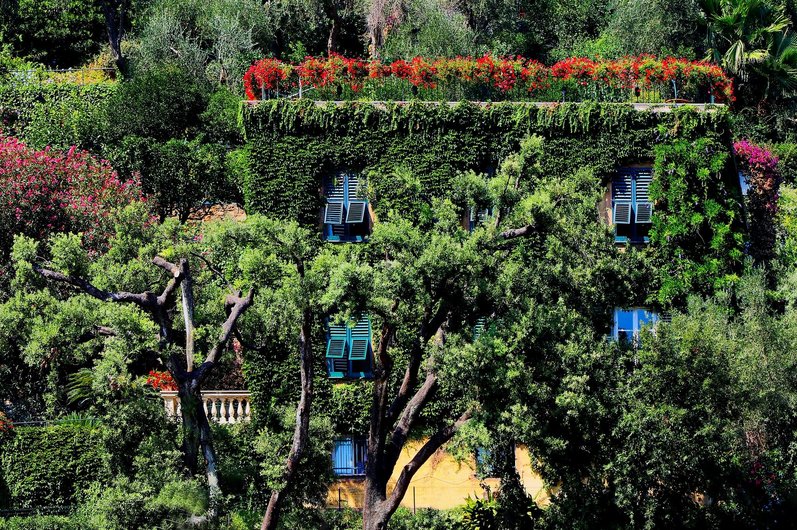 In major cities like Paris, Budapest and Vienna, there are still lots of buildings from what's known as the Gründerzeit, around the beginning of the 20th century. As industrialisation got underway, the influx into cities became heavier and heavier. A construction boom followed. Some of the facades from the Gründerzeit had plants covering them for decades, protecting them from aggressive airborne pollutants. Others have been upgraded with plants in recent years. Green facades are also a winner on single-family homes – whether a Spanish finca, Italian villa or a historic farmhouse. Existing buildings cannot be greened with soil-bound plants if there are pavements or roads sealing the earth along the facade. Attaching plants directly to the wall can also be difficult in old buildings, as old bricks are sometimes unpredictable. The walls of half-timbered houses, for example, are largely made of clay, which is not an ideal load-bearing material. In cases like this, trough-bound variants are used. The plants grow in troughs or pots. In any case, old building facades covered with ivy and other plants are a valuable habitat and food source for insects. They simply look good too.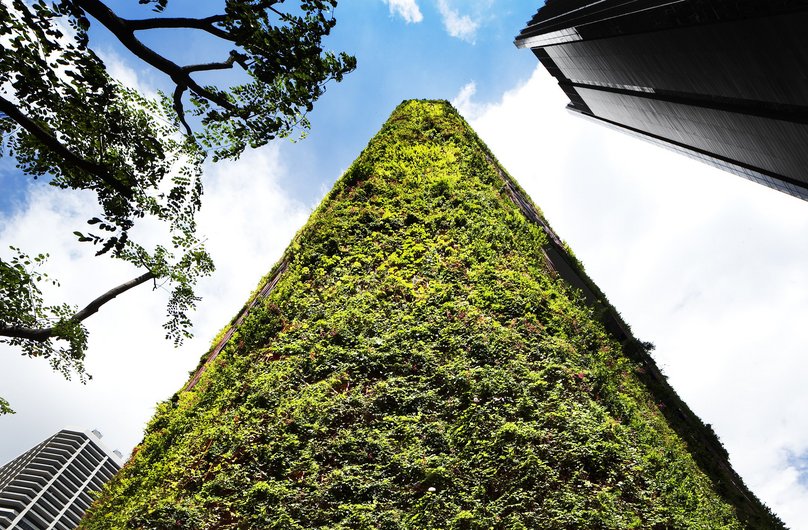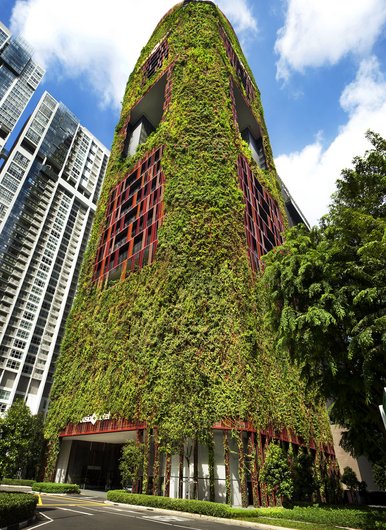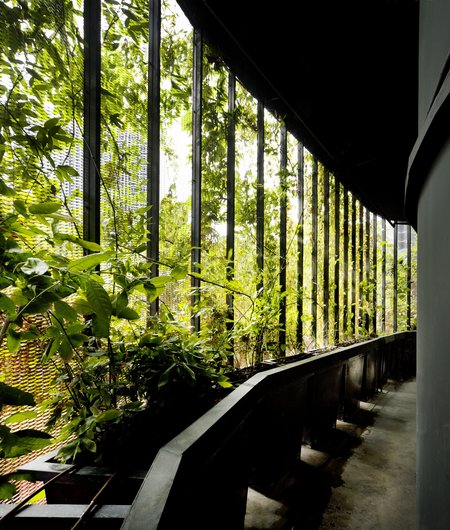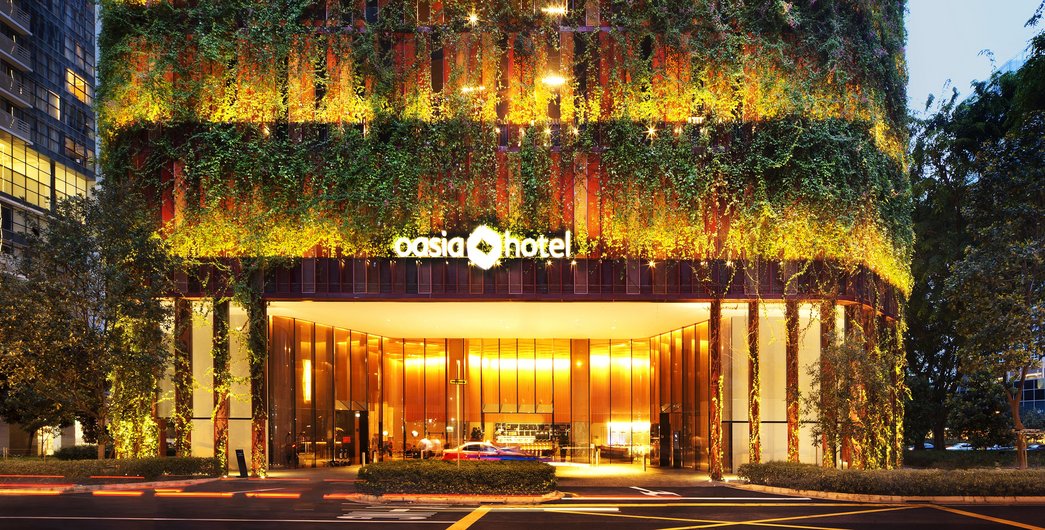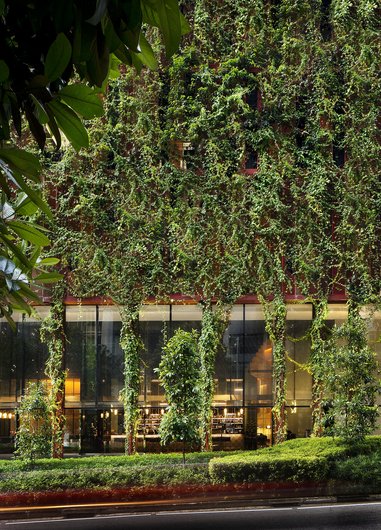 In the heart of Singapore's Central Business District, the Oasia Hotel Downtown with its green facade towers like a giant sequoia over the city. The tower was designed by the architecture firm WOHA. WOHA believes in the benefits of their green facades: "They promote biodiversity, reduce the urban heat island effect, provide shade and cooling, improve air quality, mitigate the harsh urban nature of the cityscape, restore habitats for wildlife and help people connect with nature". But not all ambitious new green construction projects are planned as professionally and implemented as sustainably as the Oasia Hotel by WOHA. In Chengdu in China, for example, eight towers covered in lush greenery stand virtually empty because there is said to be a severe insect problem. In large-volume building construction in particular, the greening of buildings and green space design should be stand-alone disciplines left to experienced companies. Speaking of which, IAT Greenline, a PORR company, takes care of everything related to gardening and green space design – from design to execution to maintenance. Horizontal and vertical. In any case, the Oasia Hotel Downtown is certainly an impressive example of successful facade greening. The plants not only lend a soothing atmosphere to the cityscape, but also offer visitors several oases of wellbeing inside and on the numerous terrace areas in the middle of the big city.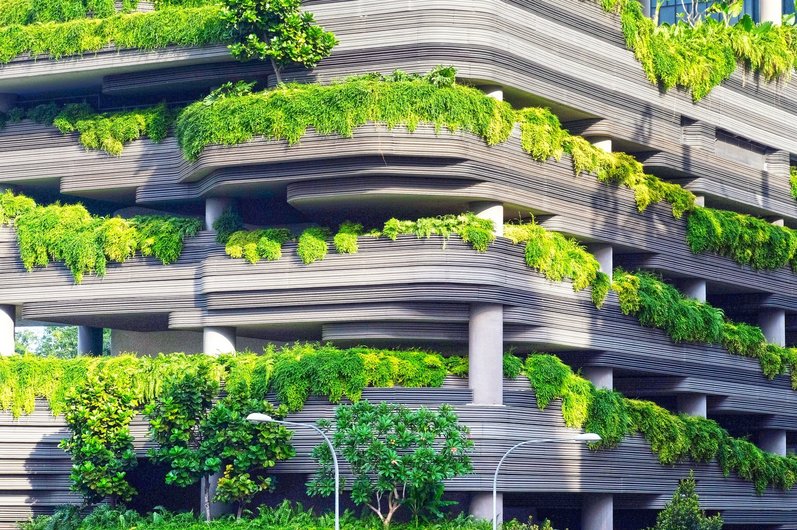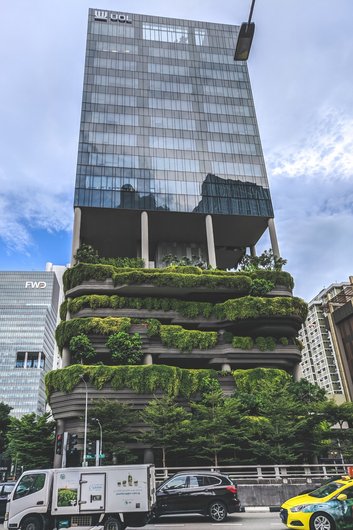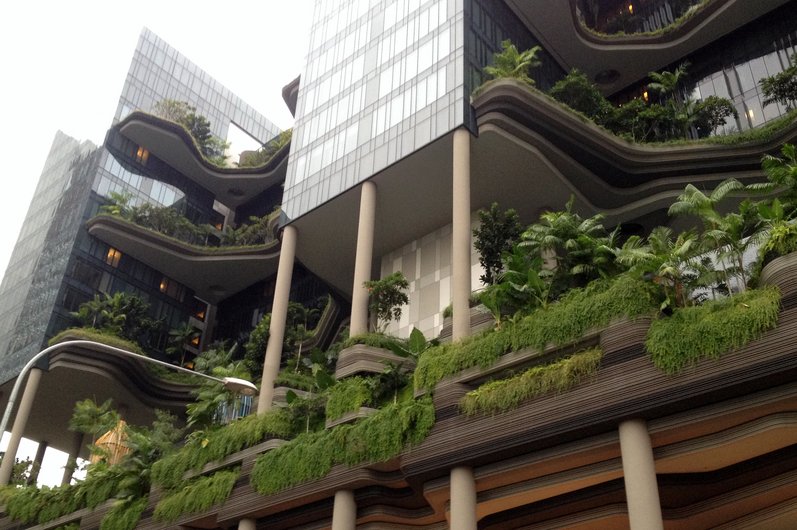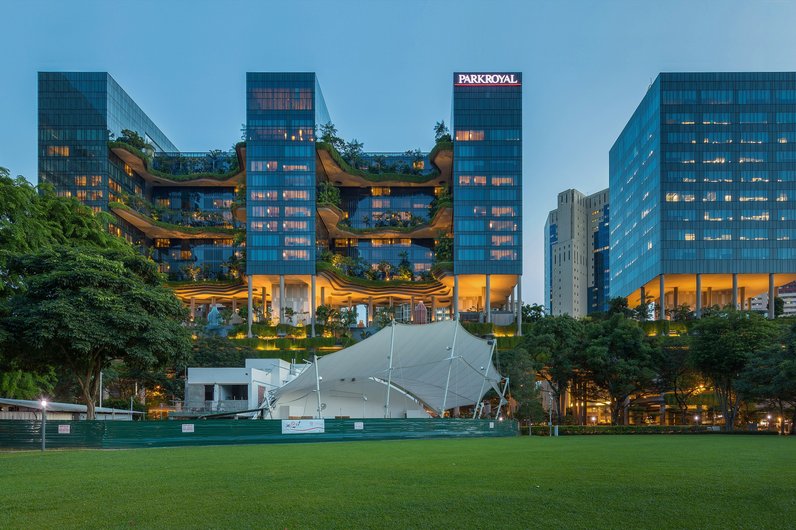 The buildings of the Parkroyal Collection Hotels have practically become icons of modern, urban facade greening. And they have already received numerous accolades. The architectural concept encompasses the ultimate in quality of stay – from the parking deck to the hotel room. Take Singapore, for example, where lush greenery sprawls from the facade of the car park as if it wants to reclaim the space. In the Parkroyal in Kuala Lumpur, whole trees populate the balconies and terraces, allowing the facade to breathe. And in the Parkroyal Collection Marina Bay in Singapore, a total of 2,400 plants from more than 60 species have been placed over 15,000 square metres. In addition, the hotel's own fruit and vegetables are grown on a 150-square-metre space on the roof. The hotels stand as showcases for contemporary green architecture.
2. Traditional grass sod house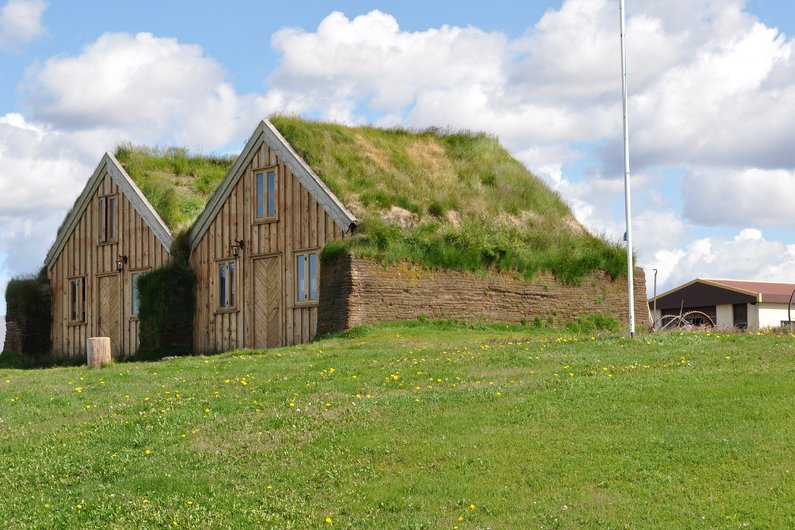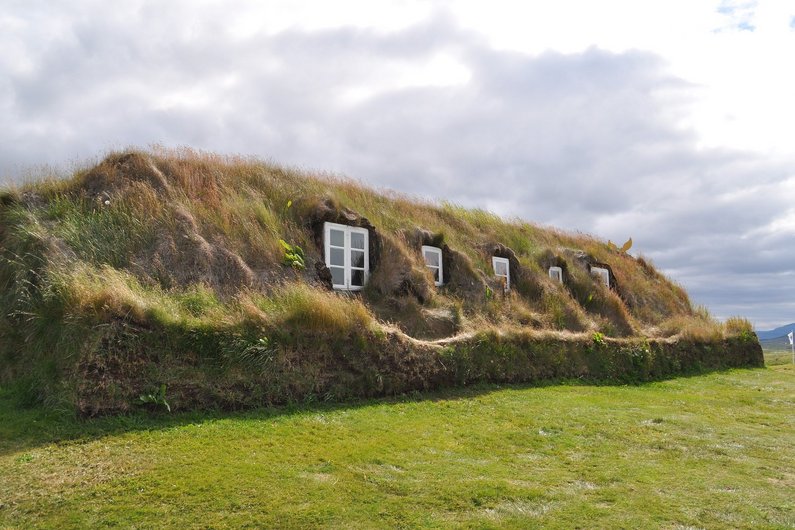 Iceland has peat houses, in northern Germany and the Netherlands peat plaggen huts were built from the 18th century onwards. In North America, too, grasses were used as a building material. What the traditional sod houses have in common is that their roofs and facades were covered and filled or insulated with cut-out sods. Even some churches used to be built this way. Today, most of the remaining sod houses serve as tourist attractions. But in modern architecture too, earth houses sunk into the ground use the natural insulation of grass and earth to their advantage. The traditional sod houses are the best example of harmonious interplay between nature and technology, between humankind and the environment.
1. Green Walls by Patrick Blanc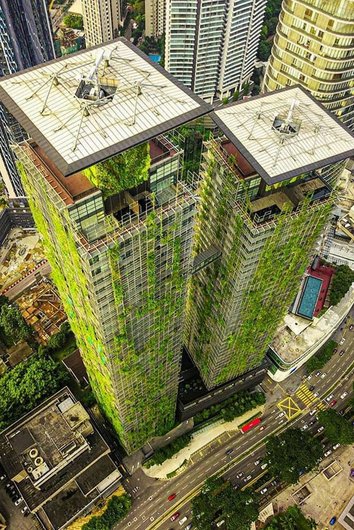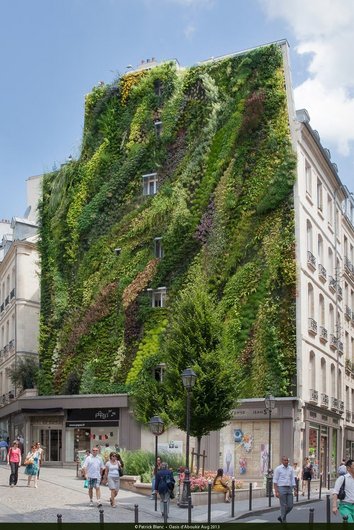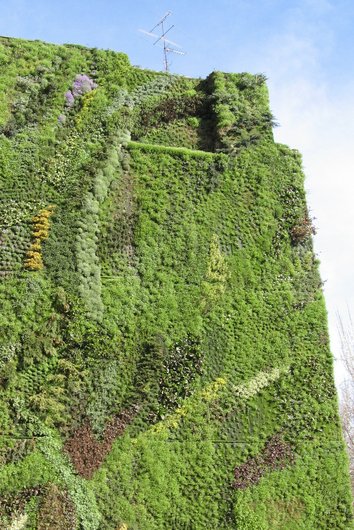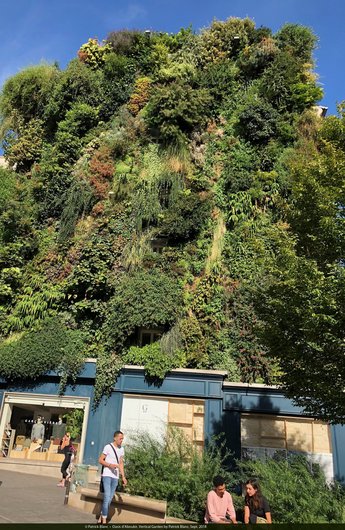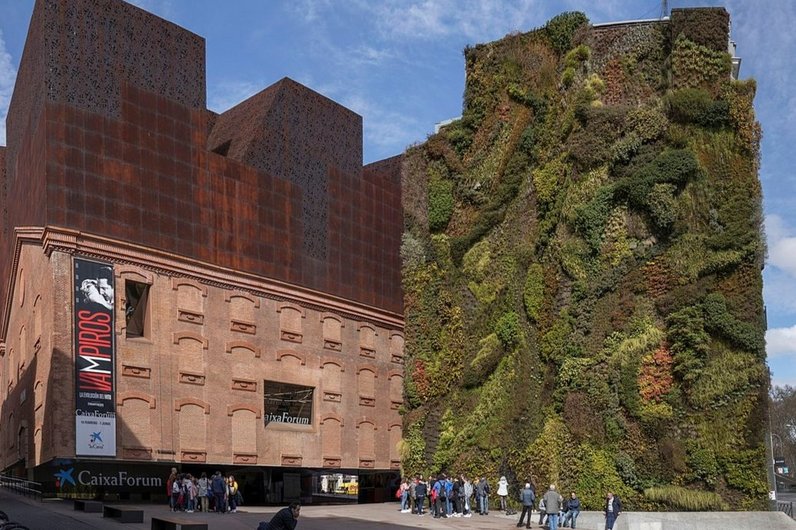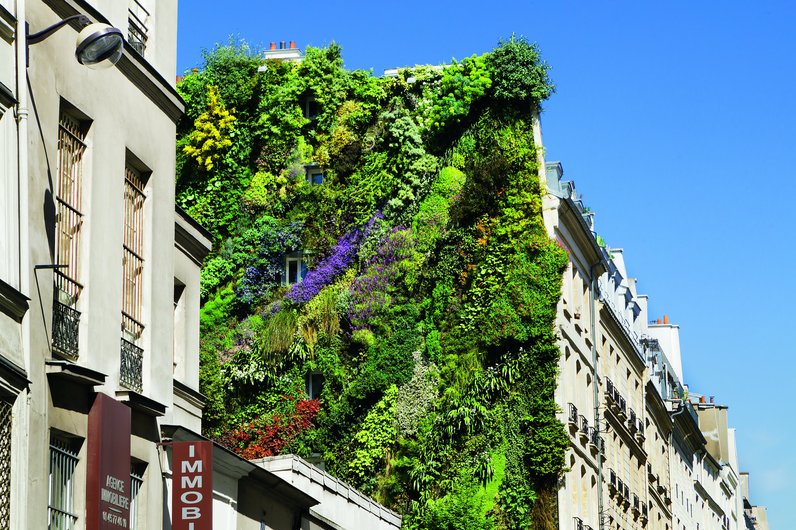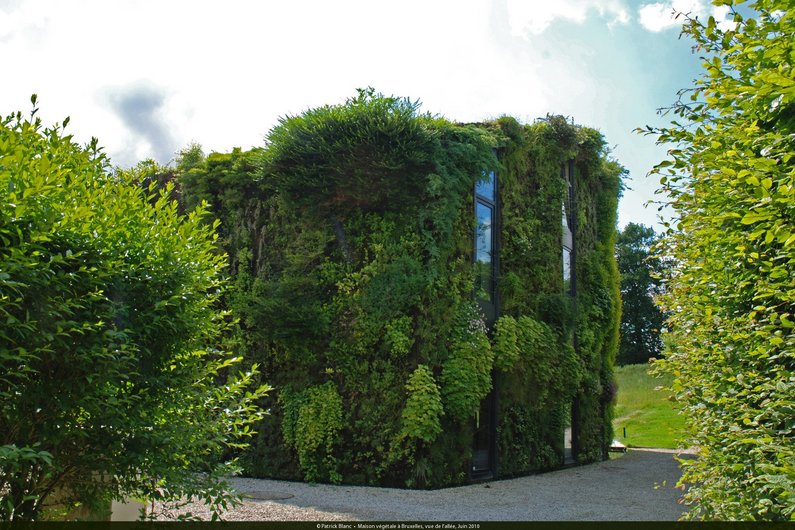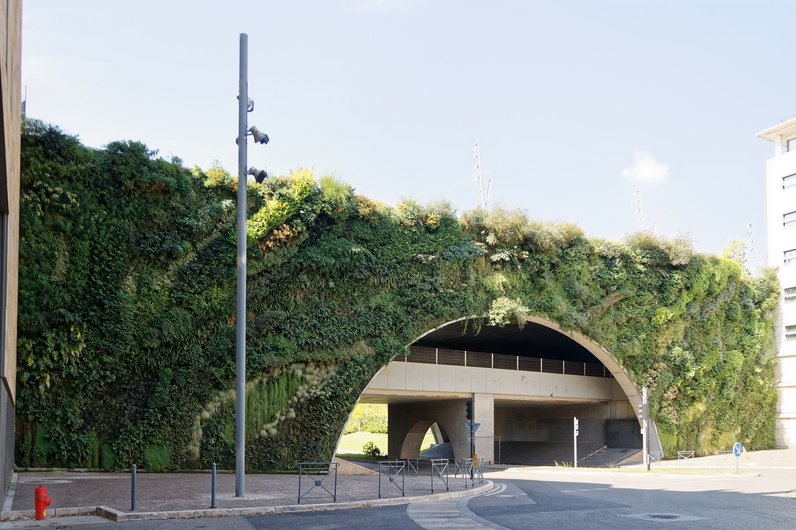 Patrick Blanc is a botanist and inventor of the vertical garden (Mur Végétal). His green facades are admired the world over. Blanc has realised projects on every densely populated continent and collaborated with renowned architectural firms. In Madrid, for example, a wall of the CaixaForum is adorned with the diverse plant world of the French garden architect and artist. The entire project was planned by the architectural firm Herzog & de Meuron. But Blanc has not only worked in big cities such as Paris, New York and Madrid. In Austria, for example, an original can be found in the tranquil little town of Wels.
Blanc's patented plant walls grow on a light metal framework that supports rigid PVC foam panels. A layer of felt made from recycled acrylic fibres is placed on top of the panels. Slots are cut in a second layer of felt so that the plants can be placed between the two layers of felt. The two felt walls are then firmly secured with stainless steel staples so that the felt walls do not tear and the plants cannot fall down. The acrylic is made from old clothes, providing a rich breeding ground for many micro-organisms, bacteria and fungi. At the very top are irrigation pipes controlled by a timer.
Blanc's vertical gardens work virtually everywhere: on the walls of existing buildings as well as on modern new-build projects and for compact single-family homes. Even bridges can be greened in this way. People follow the growth of the plants. They experience the seasons over and over again. Leaves and blossoms conjure up varied, sometimes spectacular plays of colour and combinations on the facades and walls.
With his Mur Végétal, Patrick Blanc has definitively shaped modern facade design. And that's why he deserves the top spot.