Best Place to Work
"What we need on-site is more girl power"
She turns old into new. Or at least as good as new. That's because Patricia Mair is a young site manager in the field of revitalisation. What she likes about this job, she tells in this interview.
Why did you choose a career in the construction industry?
I was launched on this path (practically) from the cradle. My Dad worked in the construction industry. As a kid, I was always building sandcastles on the beach. And whenever I saw an excavator, I was over the moon.
So did you always want to work in construction?
No. It's true that, as a kid, I liked excavators and construction machinery, but I was also into hairdos. I liked that, too. So, at the time, I wanted to be a hairdresser.
So how did you become a real PORR-ian?
I was at the technical college in Linz. One day, PORR did a presentation at the college, after which I did a three-month internship with the company. Later, in 2014, I went back to PORR in Linz. Now I'm just finishing my Matura diploma.
What do you find special about PORR?
It's a very informal, family atmosphere, where people are there for each other. If you have questions, you can go to any one of your colleagues. They are always happy to spare you some time and suggest solutions.
What are your career goals?
I want to become a site manager, handle larger jobs on my own and then really get my career rolling. Of course, that's not so easy. Managing construction sites is a challenge. Just now we have a lot of small jobs, there's always something to prepare and to organize, mostly at very short notice. To do that you need to show a lot of commitment.
What do you like about your job?
The variety. Every day is different, especially in the field of revitalisation. For example, you never quite know what condition the building fabric is in, and what's actually waiting for you. Besides that, my job involves a good combination of work in the office and on-the-spot management at the construction site. I also like seeing a project through and, at the end, being able to see the difference: before and after revitalisation. That's quite a difference.
When you're walking around town, are you thinking how you would go about redeveloping the old buildings?
Yes, absolutely. When I'm out and about, I'm always thinking about that. Recently I was with my family in Venice, that was quite upsetting.
Venice is a city that's seriously affected by climate change and the rising sea level. What part does sustainability play in your field of work?
In carrying out revitalisation, we bring old buildings and building fabric into line with present-day requirements and environmental standards. And we use sustainable materials wherever possible. So in that way we're making an important contribution towards a future worth living.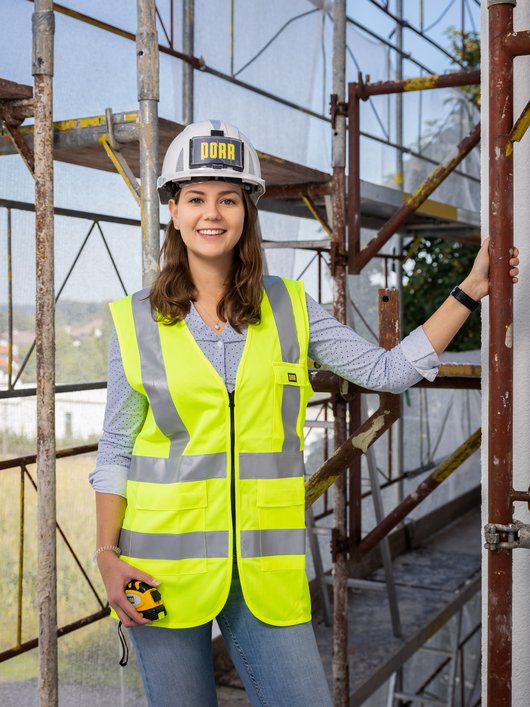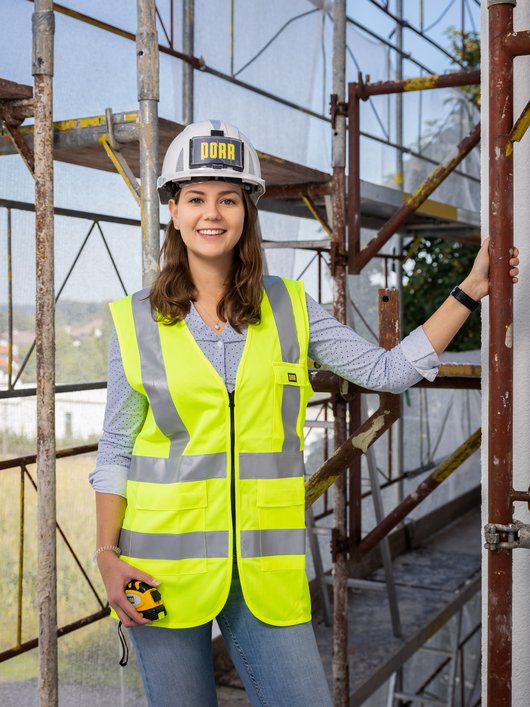 What do you do in your spare time?
I like holidaying in Italy. Apart from that, I often spend time in the great outdoors. Also, last year I did a training course as a paramedic, and since then I've been doing voluntary work with the Red Cross.
What do you, as a woman, find interesting about the construction industry?
For me, it's easier working with men. I did the Empowerment Training for Women course, but some female colleagues have told me that they sometimes find it hard to put it into practice. I didn't have any problems with that. Of course, at the outset I was still just another female member of staff. But now I have my own construction sites and I call the tune. That works brilliantly. However, I do believe that there is still a need for more female role-models who can talk about their jobs in construction in schools and at vocational training events. Then women will be able to discover first-hand that the construction industry offers many opportunities for them, too.
What message would you like to give to women?
Anyone can make a great career in construction – regardless of whether you're a man or a woman. You've just got to believe in yourself. And always say what you think. One thing is for sure: what we need on-site is more girl power.