Sustainability
Wood – the construction material of the future
Sustainable buildings as a chip off the old block? Wood is gaining popularity as a construction material. With a lot of benefits. Primarily for the environment.
It now only grows back, it also binds CO2 – making wood a genuine miracle-resource. So it's hardly surprising that many researchers are urging us to build less from concrete and steel and more from wood. Sounds simple, but is it really possible? At the end of the day, buildings are getting higher. And the demands on them are rising too. But this is far from a new idea – people have been building from wood since the Neolithic Age, starting in Central and Northwest Europe between 5,800 and 4,000 BC.
Sceptics have long protested that wood cannot withstand the same loads as concrete and steel. So you can build a detached home, but how stable and safe would an apartment block made of wood be? And if there is a fire, won't it burn to the ground rather than just to the foundation walls?
A lot of progress has been made in this area in recent years – not least in light of the devastating threat of climate change. And with it, high-rise buildings made of wood have been designed and built all over the world. Even if they are not yet scraping the sky, the trend suggests a rapid rise. After all,
In Norway stands Mjøstårnet, the world's tallest wooden building at the time, at a height of 85.4 metres. It has 18 storeys with offices, hotel rooms, apartments, a restaurant and a pool. The architect team from Norway – Mad arkitekter – are also behind the WoHo residence in Berlin Kreuzberg. For the 98-metre-high wooden tower with 29 storeys, only the elevator shafts and stairwells will be made of steel and concrete. The total usable area of 18,000 square metres will contain apartments, small grocery stores, studios, day-care, a spa area and a bar. There will also be green courtyards, a rooftop terrace, and spaces for urban gardening. What's more, fewer parking spaces will be offset by a carsharing service, electric charging points and a bicycle garage.
A new height record is destined to be set by The Dutch Mountainsin Eindhoven, The Netherlands. The impressive towers will stretch to 130 and 100 meters. They will be home to offices, apartments and a hotel and will be linked by a gigantic conservatory-style winter garden. Again, only the stairwells and the elevator cores will be from concrete. The project by the Rotterdam architects Marco Vermeulen works on the principle of a circular economy and uses organic materials wherever possible.
Profoundly sustainable with PORR
The PORR Group is pretty experienced in building with wood. In 2016 PORR Oevermann built the new headquarters of SuperBioMarkt AG in Münster in a consortium using a wood-hybrid construction method. Currently taking shape in Düsseldorf's Medienhafen is an innovative beacon project: The Cradle – a recycling-friendly wood-hybrid office building with a removable wooden facade. All of the construction materials can re-enter the organic and technical cycles at the end of their useful lives.
At Lake Traunsee in Austria, PORR was the general contractor who transformed an old hospital into
Europe's most cutting-edge further education and training centre for forestry.
One special feature here is that originally it was all planned to be made from reinforced concrete. But PORR gathered all of the requisite permits, attestations and verification to be able to realise it as a wooden structure.
Projects like this naturally require a great deal of wood. Or more precisely, cross-laminated timber (CLT). And this comes from places like Leoben in Styria, Austria. To meet the growing demand, Mayr Melnhof Holz AG is building a modern CLT production facility. And pde is responsible for designing the support structure, i.e. the statics for the tender and the build itself including producing the concept for soil improvement and geomechanical monitoring. This has already paid off for the developers: by optimising the foundation system, pde has already cut costs by around two million euros.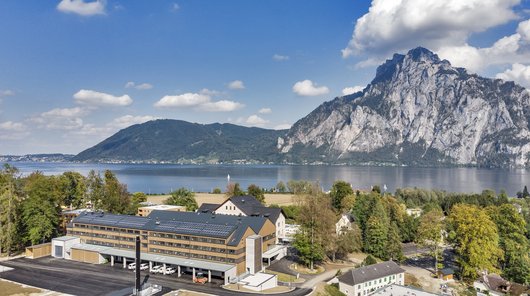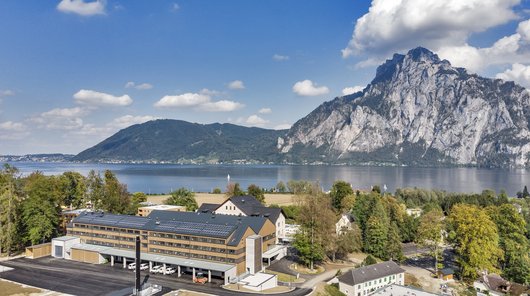 Wood is good for the climate. Every cubic metre of wood installed binds one tonne of CO2.
Wood is a renewable resource. One cubic metre grows in Austria's forests every second. Of course, this is only an argument in favour of wood for construction if it is felled sustainably and planting is not limited to monocultures.
Wood is an innovative construction material. And yes, naturally, wood can burn. But the fire risk is easy to calculate, which is not always the case for other materials. What's more, wooden structures need smaller foundations as the construction material has higher load-bearing properties in relation to its own weight. And many parts can be prefabricated in production halls and only need to be pieced together at the construction site.
Wood is an important economic factor. The livelihoods of around 300,000 people in Austria depend on wood and forests.
Wood can often be recycled. Once a wooden building reaches the end of its useful life, the wood can be used to make something new.