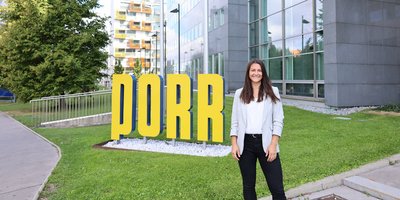 Best Place to Work
Visionary and World Champion
She first came to PORR as an intern. Now Elke Mayr is developing the construction site of the future with her innovative ideas. A success story.
The construction site of the future – that's my passion. Here in Innovation Management of PORR, we need a constant supply of new ideas and solutions to keep us a step ahead. The automation and digitalisation of job stages and processes has an important role to play. Smart technologies and robots are just two of the many ways innovations can help, both on the construction site and elsewhere. I am currently in charge of my first cooperative research project on automated plasterboard removal, as well as starting a second project involving the automation of job stages in new constructions. I also accompany Construction Robotics students from RWTH Aachen University as they enjoy their first practical experiences on our construction sites
Design thinking? End effectors? Construction robotics? Before my internship I had never heard of any of these, but you hear the terms all the time in the Innovation Management department at PORR. That's where I spent my six-month FEMtech internship, which started in summer 2021. This was supported by the Austrian Research Promotion Agency (FFG) and aimed at female students in STEM subjects. PORR is a premium partner of the RWTH Aachen University'sCenter Construction Robotics (CCR). This cooperation gave rise to the project I focused on during my internship: automation in the context of plasterboard. RWTH Aachen University took care of the research and development, while we oversaw the research effort, coordinated with PORR Umwelttechnik and contributed to development. Preliminary studies produced a patentable prototype that makes the construction industry more sustainable and improves safety on construction sites. As for me, the intern? Once my internship was complete, I became a fully fledged PORRian.
Innovation Management is responsible for fostering innovative ideas, from conception to implementation. This includes visualising new, automated processes and presenting them in a clear, comprehensible format to all interested parties. In addition to the development and use of the new products, we also want to make a name for ourselves as an innovation team, the ideas people of tomorrow. We want to appeal to, support, and network with the same kind of people. Then we can make PORR a true trailblazer in the application of innovation, automation, and digitalisation technologies. My colleagues and I have launched a new forum, the Pioneers Round Table, which will be held regularly. We also publish regular project progress reports in construction industry publications, and set new benchmarks for the implementation of innovative projects in the construction sector.
Creative design has always been one of my passions. As a child, I rearranged my bedroom every couple of months, always planning well in advance with sketches and increasingly detailed plans. I originally wanted to be an interior designer, but I eventually changed my mind and went for construction engineering instead. Applying new technologies in the construction sector and shaping the construction sites of the future – I think that's much more exciting. I like a bit of excitement in my free time, too. Physical excitement, I should say. I belong to the Vienna Cheerleading Association and compete on the national cheerleading team. Our national team competed in the world championships in Orlando, Florida in mid-April. And won gold.