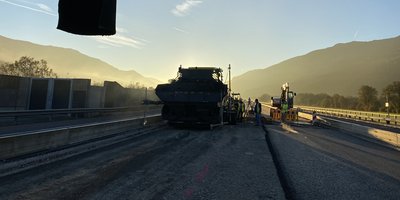 Digitalisation
General renovation with digitalisation
It is ASFINAG's first digitalisation project: the general renovation of the A9 Pyhrn motorway between Edlach and Gaishorn. PORR is once again demonstrating its pioneering spirit with digital tools.
200,000m² of road surface and several bridges over a total length of around 5km are to be renovated on the A9 Phyrn motorway by 2024. Our civil engineering team at the PORR Styria branch receives support from our experts in Operational Management. The project: unusual. The cooperation: excellent. The order volume: more than 60 million euros. The vision: already a reality.
In addition to the usual requirements in the tender, ASFINAG placed a particular emphasis on digitalisation. A two-envelope bidding procedure was used during the tender phase in autumn 2021. This means that the bids were initially evaluated based on quality without knowledge of the bid price. Our execution digitalisation support team from Operational Management (OM-EDS) was tasked with developing the required quality criteria for digitalisation. The digitalisation measures were developed collaboratively, and separate digitalisation roles were defined in the tender for the first time. Finally, digitalisation technician Manfred Hübler of PORR's Styria branch and Digitalisation expert Christoph Winkler presented the measures to a specialist committee. We achieved an excellent result with more than 90 out of a possible 100 points and beat all the other competitors.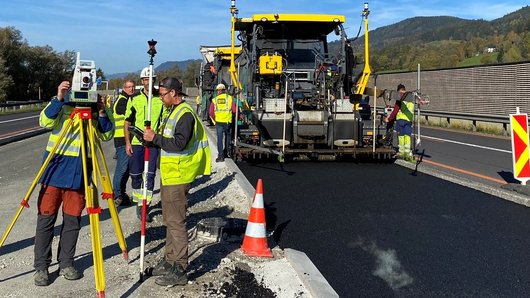 At the core of our digitalisation concept is the Building Information Cloud from Infrakit, an online digitalisation platform from Finland. This enables us to visually display all construction-related data – from measurement and photo documentation to realtime access, to model data for 3D-controlled machines. We also use digital solutions to optimise logistics processes in asphalt road construction – for example, construction process optimisation, Völkel roller compaction control, and 3D paving control. But we also use an innovative GNSS-based surveying technology from SitePlan for measuring and surveying work. Our digital measures also include PORR's internal occupational safety app for the digital processing of the safety walk and digital personnel documentation with ISHAP. ASFINAG defined additional digital services as separate items within the tender. These include digital task management, digital field report sheets, and daily construction reports.
After a relatively short construction preparation phase, work began in April 2022. Naturally, the emphasis was on seamless construction progress. We trained our operational units and commercial staff in how to use digital tools before the project started. The OM-EDS team supports the project throughout the entire construction period. At contractually fixed monthly digitalisation meetings, we define the goals and the implementation plan for the digital measures together with the client. We will complete the first of the three construction phases in a few months. "Every new technology is a challenge at first, but as the project progresses, the advantages of the digital tools become clear," says our digitalisation technician and site manager Manfred Hübler. And furthermore, "When we're always one step ahead, we'll always be the first choice for unique construction projects in the future."
... that digitalisation also makes road construction more sustainable? This is because efficient processes mean less waste and lower emissions – from project preparation to execution and follow-up. Construction process optimisation (BauProzessOptimierung, BPO) guarantees a continuous digital process. In addition, since the beginning of this year's asphalt paving season, we have been using a uniform and manufacturer-independent roller assistance system for full compaction control in earthworks and asphalt construction. This system improves compaction results and enables seamless quality control.