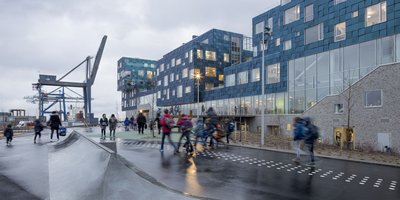 Sustainability
Top 5: The most impressive buildings in Copenhagen
Copenhagen is UNESCO World Capital of Architecture 2023. Why is that? We found five good reasons.
Copenhagen is one of the most liveable cities in the world. Not least because of its sustainable urban development. The metropolis is set to be climate-neutral by 2025. This is made possible by innovative buildings with smart energy concepts. And a mobility policy that prioritises climate-friendly transport. More than 1.3 million people live in the Greater Copenhagen metropolitan area. The Danish capital itself has around 640,000 inhabitants. 62% of the population in Copenhagen use bicycles regularly. From 2005 to 2017, they achieved a reduction in CO2 emissions from 2.3 million tonnes to just over one million – with population growth of around 1,000 people per month. These statistics truly hit home on a walk through the city and the chance to see all its innovative buildings and architectural projects. For 2023, Copenhagen has been named the World Capital of Architecture by UNESCO, backed by a recommendation of the International Union of Architects UIA. A good opportunity to take a closer look at the sustainable architectural projects of the Danish capital.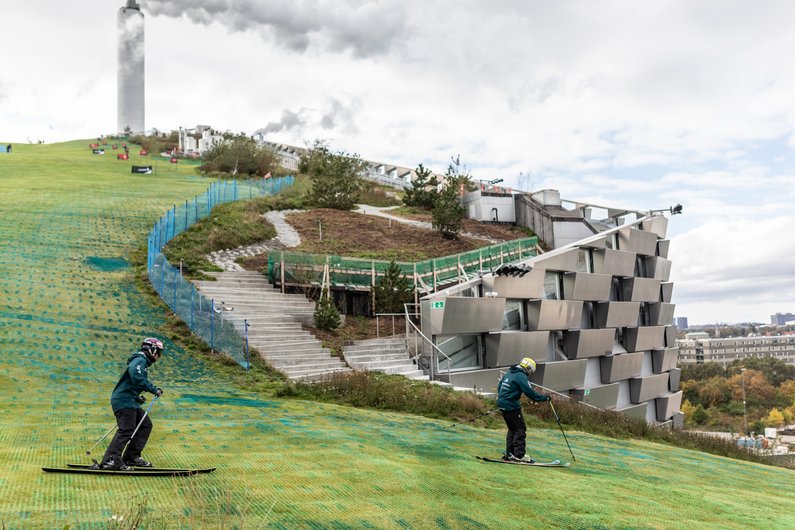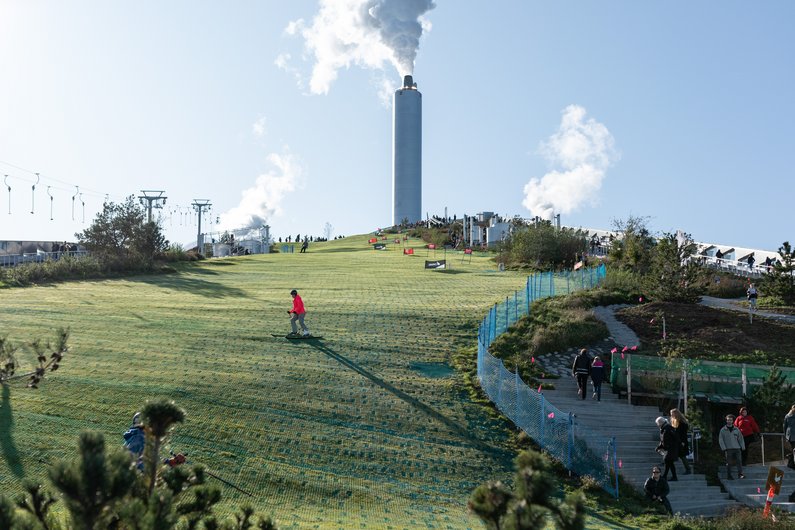 Urban ski resort and power plant
For a project that is one-of-a-kind worldwide, look no further than CopenHill. Urban quality of life and essential infrastructure find a common denominator here, on a former industrial area. A waste and wood-chip incineration plant generates electricity for 30,000 households and heating for 72,000. The roof is used for recreational purposes: As a 450m-long ski slope with a gradient of up to 30% that can be used for skiing all year round. Four lifts take skiing enthusiasts to a slalom course, a freestyle park and the children's area. The Amager Bakke power station was designed by BIG | Bjarke Ingels Group and SLA Architects, and transformed from an old coal-fired power station into a modern infrastructure project. The site includes an outdoor sports facility as well as an alpine-inspired park. The wall of the power plant is home to the world's highest climbing wall at 85 metres. CopenHill is a prime example of socially and environmentally sustainable infrastructure. It uses existing resources efficiently and creates high-quality space for local recreation and leisure. Overall, Copenhagen uses a mix of wind, solar, biomass, geothermal and waste recycling for its energy supply in its quest to become climate neutral. A video of CopenHill can be found here.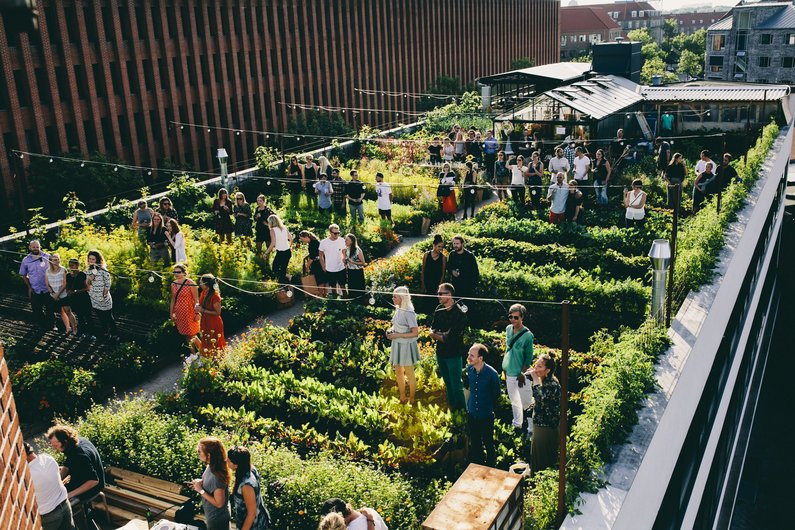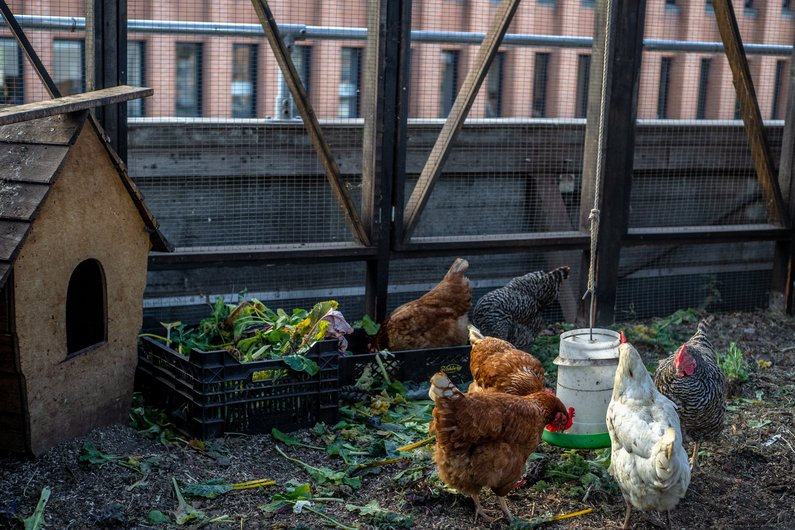 Local recreation and urban agriculture
The ØsterGro roof garden is also an oasis of local recreation. It is the first urban farming roof garden in Denmark. Organic fruit, vegetables and herbs grow here on an area of 600m². In the rooftop restaurant Gro Spiseri they are served freshly picked and prepared. They are watered, of course, with rainwater from the collection barrel. There is also a small chicken farm where the leftover vegetables are used. The garden is located on the roof of an old auction house in the city and is open to the public. ØsterGro is considered a pioneer of urban green space design in Copenhagen and provides a valuable habitat for bees and other insects. For people in the city, the garden is a beloved green haven and a popular meeting place.
Copenhagen International School Nordhavn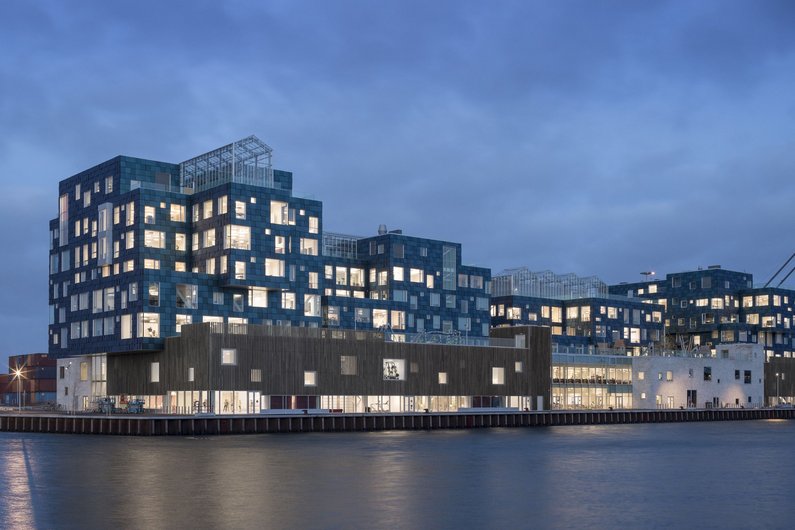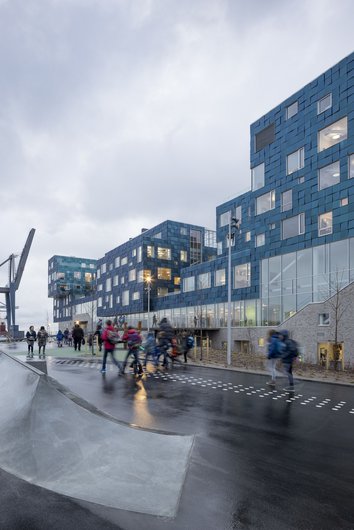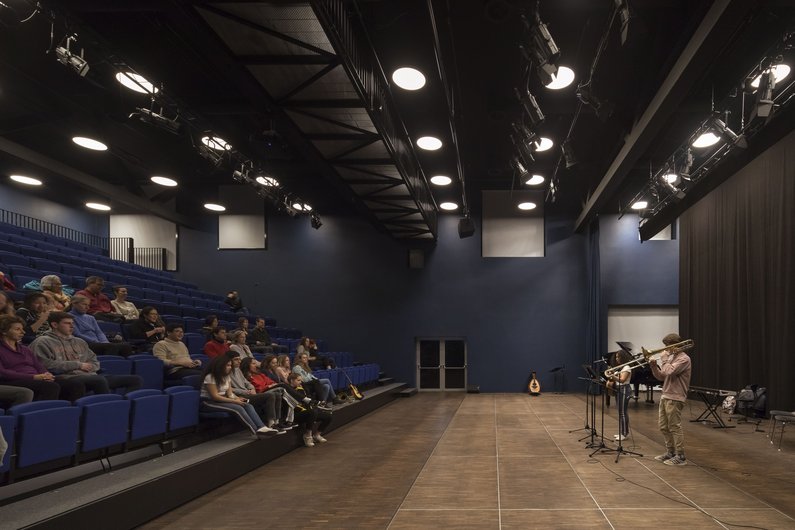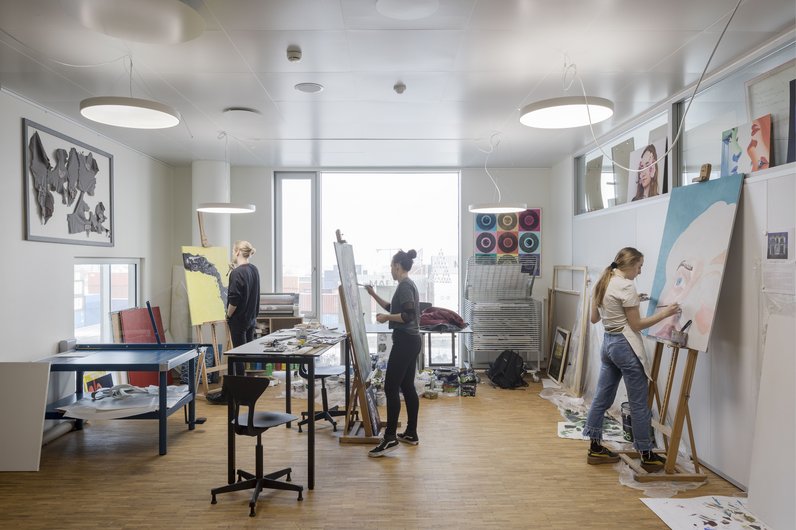 In an urban development area in the northernmost part of Copenhagen, C.F. Møller Architects has built the Copenhagen International School Nordhavn – with classrooms and common rooms for 1,200 pupils on a total area of 26,000m2. Its facade of 12,000 solar panels produces more than half of the annual electricity requirement itself. Spanning 6,048m2, it is one of the largest building-integrated solar power plants in Denmark. Architecturally, the school is designed to convey an atmosphere of openness. There is both public space for extracurricular activities and areas that are exclusively accessible to teaching staff and pupils. Overall, the high and bright rooms create a friendly atmosphere throughout the building. "Our goal was to make a holistic learning environment", said the architectural team. The Nordhavn site is an area close to the city centre around a former industrial harbour. Over the next 40 years, a modern, sustainable urban quarter is being built there in line with the master plan by COBE, SLETH, Sangberg (formerly Polyform) and Ramboll that won the 2009 international competition. Around 100 ha of land will be filled in for this purpose by 2025. This land gain will increase the size of the district to around 350 ha. The new quarter will be recognisable for its short distances, citizen-friendly, open and mixed-use spaces as well as its sustainable buildings.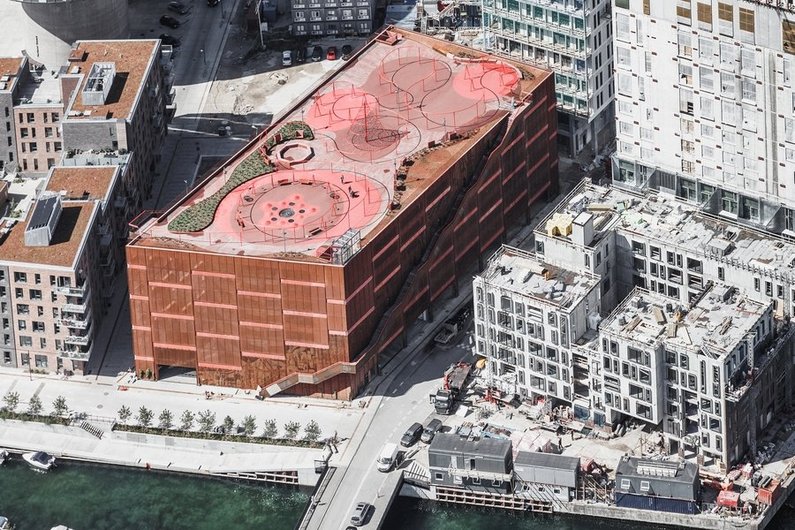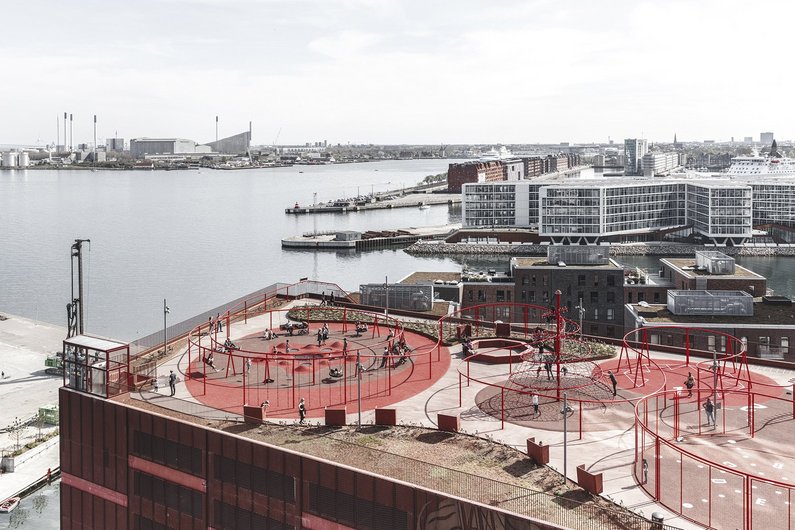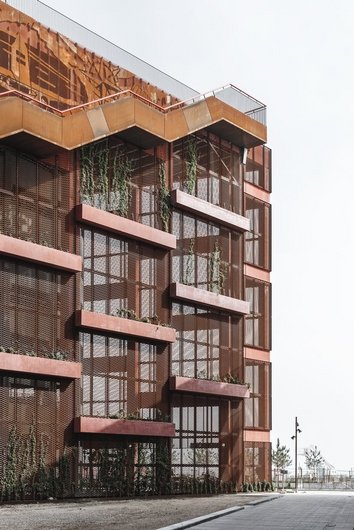 Park, play and store electricity
The Lüders car park and Konditaget is also located in the Nordhavn urban development area. In order to keep the streets free of parked cars, and because the soil is not suitable for underground construction, a large neighbourhood garage was chosen. JAJA Architectsdesigned the facade in the style of the old clinker brick buildings of the so-called Red Quarter. The roof area serves as a public sports and leisure facility with magnificent views over the harbour. As a partner of EnergyLab Nordhavn, the garage is integrated into a smart energy monitoring and management system. A small IOT meter developed by Nerve Smart Systemsallows for the real-time measurement of electricity consumption from the energy meter in the Lüders car park. The data is transmitted directly to a data management system. This continuously brings new insights into the construction and commissioning of a battery system in an urban environment. The integration of large storage systems for battery energy can stabilise energy supply and meet demand by charging the batteries when demand is low and discharging them when demand is high – while also acting as a buffer for charging electric vehicles. The battery in the car park uses electricity from renewable sources such as wind and solar. During planning, fire protection aspects in particular had to be taken into account, as batteries with lithium-ion technology can cause serious fires. This why the battery system was placed in a fireproof concrete cabin behind a steel door with two fire systems.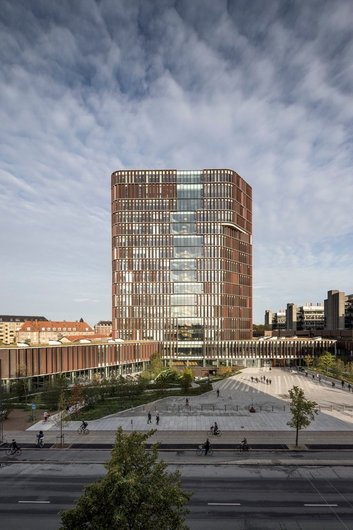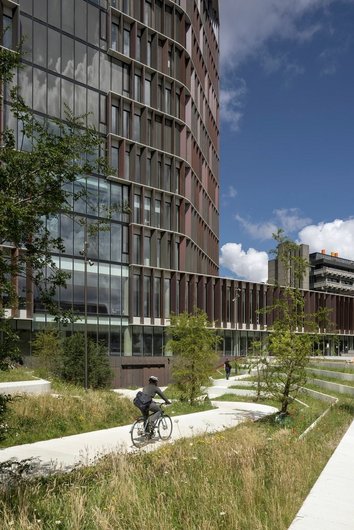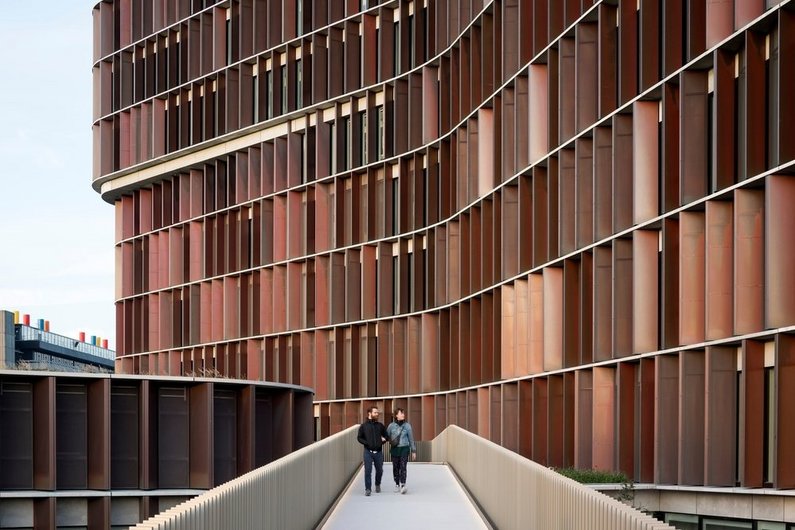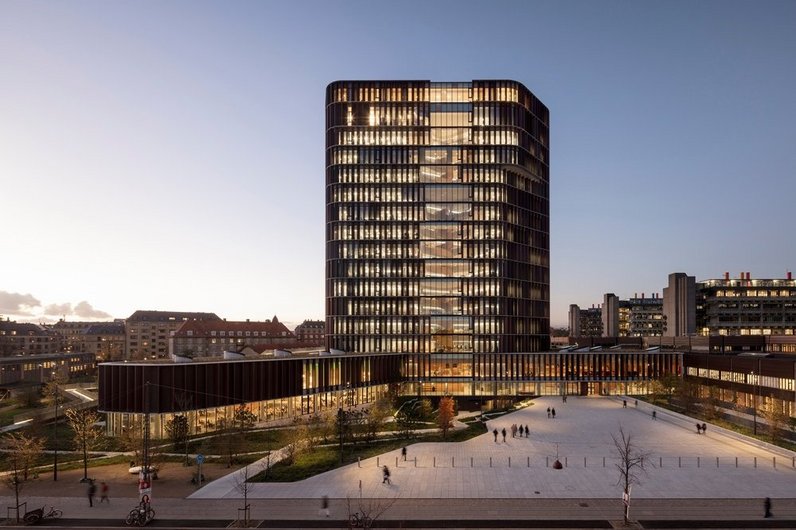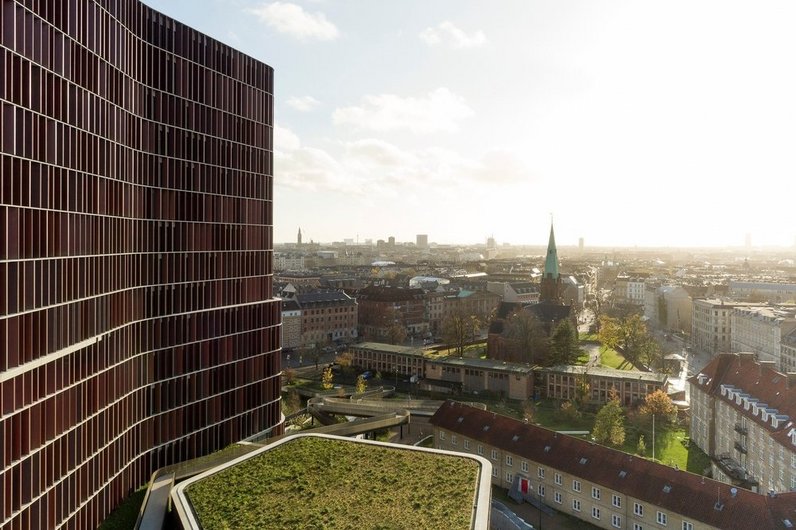 Energy-efficient laboratory and modern aesthetics
The Maersk Tower is an extension of the Faculty of Health and Medical Sciences at the University of Copenhagen. It includes research and educational facilities as well as a conference centre with auditoriums and meeting rooms. A landscaped campus park is open to the public. What is known as a floating path leads across parts of the Maersk site, creating proximity between the people and the building as well as the scientists. At the same time, this has formed a new connection between Nørre Allé and Blegdamsvej. The tower rests on a plinth that is accessible to all and the square in front of it is designed to cope with future climate change: Excess water seeps between the tiles into a large reservoir where it is collected. The green roofs are capable of absorbing extreme downpours. The excess rainwater is used to irrigate the park as well as in the building's toilets. The Maersk Tower was designed by C.F. Møller Architects and features "Denmark's most energy-efficient laboratories, where waste energy is reused on an unprecedented scale". The facade consists of floor-to-ceiling, copper-covered shutters. The shutters act as a climate shield, adjusting to direct sunlight or overheating as needed.
… that 90% of households in Copenhagen are connected to the district heating network?
… that 74% of the CO2 reduction in energy supply has already been achieved?
… that Copenhagen invested around EUR 36 per inhabitant in 2018 to expand the infrastructure for cyclists?
… that Copenhagen has reduced public parking spaces by 3% every year since the eighties?