Best Place to Work
Called to climb
Jvan Tresch is a Swiss Master in lead climbing, he's defeated many new big wall routes all over the world and he uses his talent for his work in the Rock Team at PORR SUISSE AG.
Climbers sometimes spend days on some long, steep ascents before they finally reach the top. This technique is called "big wall climbing" and the mountaineers rest overnight on portaledges, which are platforms suspended from the wall with climbing bolts. It's not a pastime for the faint-hearted. You need to be strong. You need to have stamina. Remember that the climbers have to carry all the equipment and supplies they need for the multi-day climb. It's a truly daredevil activity that demands every ounce of skill and experience its aficionados have. Our PORRian Jvan Tresch has proven time and again that he has plenty of both – and puts his talent to practical use in our Rock Team.
Jvan grew up in the heart of the Uri Alps, roped to his father and brother while still knee-high to a grasshopper. When the wonder children won their first competition, they drew the attention of the Swiss national team and were soon part of the top squad. Jvan won the Swiss championship for sport climbing while still a teenager – not once, but twice. He also competed in international climbing competitions and championships. His training ground was and still is the mountains. There are plenty of them in his home canton of Uri, which is also the home to PORR SUISSE AG. When Jvan was sixteen, he began his vocational training as a mason and decided it was time to step down from the national team and devote more time to his own projects. After completing his training, Jvan took on short-term jobs here and there, saving money for months-long expeditions.
"I only worked so that I could keep climbing. I literally lived for climbing", Jvan tells us. He completed the first ascents of several big wall routes in the USA, Greenland, Argentina, Chile, and Switzerland, thereby making a name for himself in the international climbing scene. He was the first Swiss to climb the 1,000-metre-high El Capitan in Yosemite National Park, in just one day. The route has a difficulty rating of 7c. The highest climb he has ever done was in Patagonia, a rock face 2,600m high – or 61 pitches, in climbers' lingo. It took him around 56 hours, including an eleven-hour hike to the start point. He only spent three of those hours asleep.
In 2011, Jvan and his climbing companions achieved a major breakthrough in their own country. Their first ascent of the southeast face of Chalchschijen – a 620-metre, big wall ascent – made headlines in every Swiss paper. They had spent four years preparing for the climb, and it took them eight days on the wall to top out.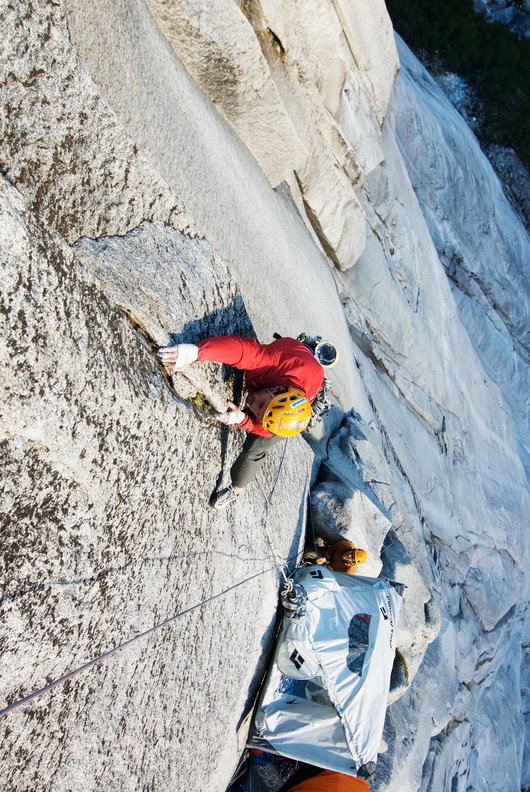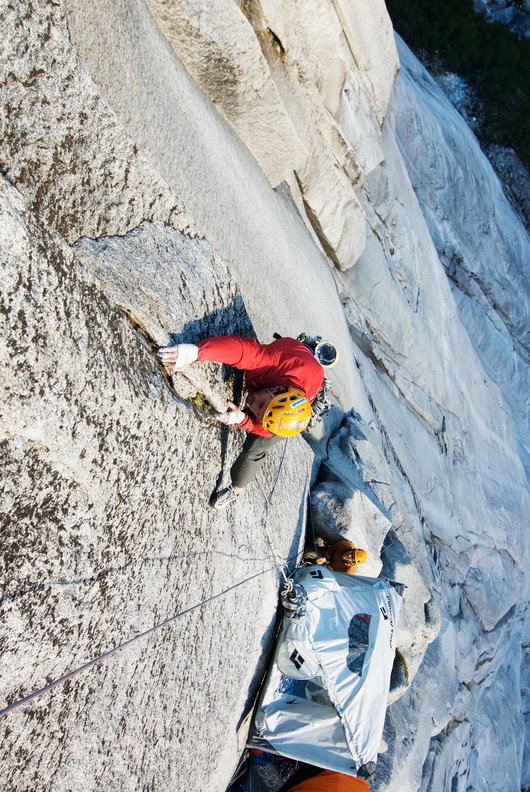 Jvan found his way to PORR with the help of another PORRian – now a colleague. The two were in the same climbing circles and had already known each other for years. Having an extreme climber in the team gives the whole team more confidence. Jvan has been able to teach his colleagues a fair few tips and tricks, particularly for rope handling. This helps the team bond together and trust one another – vital for an effective team and potentially lifesaving when working at dizzy heights.
Jvan's experience and extraordinary talent enable him to provide unique support during challenging projects. Just one example: a particularly spectacular construction site in the Zingel quarry, where the overhanging rock wall was up to 150m high in places, and all the work had to be done hanging from a rope. Jvan, his rucksack stuffed with equipment including an electric drill, pioneered the 20m-high climb to create access routes for areas that could not be reached by lowering a rope. Working at high speed, he inserted climbing bolts and secured them from below so that the other team members could safely ascend to the working area. Jvan is also our man for work on rock faces above Swiss cantonal and national roads, railway tracks, or the hiking trail located directly above the heavy-traffic axis on Lake Lucerne, where our team had to remove a 3.5-tonne outcrop for safety reasons.
Looking back, would Jvan do anything differently? The 40-year-old admits a little wistfully that, in his frequent trips abroad, he has rather neglected his own Swiss mountains. However, there is still time for him to fulfil his dream. One day, he hopes to climb the north face of the Matterhorn and the north face of the Eiger. Believing in yourself is all-important to him.