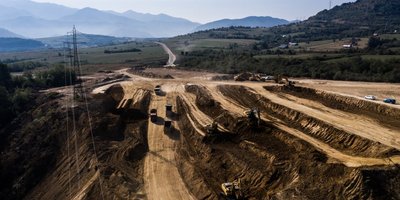 Digitalisation
Visionary Civil Engineering Expertise
PORR uses digitalisation to make infrastructural and civil engineering projects more efficient. The DeepSoil project in Romania also proves that we are always one step ahead.
Following the planning and construction of section 1 of the overall Sibiu–Pitești motorway project, we received another major order from PORR Romania in the spring: section 4 from Tigveni to Curtea de Argeș. The 9.86km-long section includes several civil engineering structures. We are also constructing the country's first twin motorway tunnel, measuring 1.35km. We are doing this using completely underground construction methods. With a total length of 123km, the motorway is the shortest connection between the west and south-east of Romania. We are currently busy with the planning work for section 4 and have already completed the construction of section 1. The motorway was opened in mid-December. And with the completion in February of the DeepSoil pilot project (Digital Enduring Earthworks Performance & Survey on Intelligent Logistics), we took another decisive step towards digitalisation.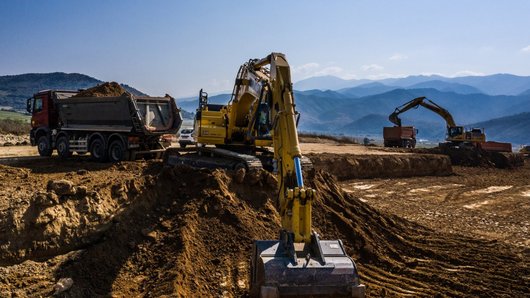 Test track and BIM environment
Our work on section 1 included the 13.17km-long connection between Sibiu and Boița. A 1.5km-long section served as a test track for DeepSoil. With new BIM technologies, machine controls, and aerial photography using drones, as well as augmented reality (AR), we have been able to continuously improve our work and determine requirements on our construction sites more precisely. We tested different methods and technologies and implemented the most efficient ones. The DeepSoil strategy, which we developed together with our BIM colleagues from Austria, follows the European trend towards digitalisation. It is the cornerstone of our digital way of working on infrastructure projects because it creates a reliable environment with continuous and uniform data. In the integrated BIM environment, all teams, systems, devices, technologies, and software programs work together efficiently. This enables better coordination in all project phases.
In building construction, our BIM solutions have had impressive results for a long time. But additional research and development was necessary to apply these advantages to infrastructure projects as well. With the expertise gained from this, we have created an object library that automates workflows and models the technical project with intelligent objects. A common data environment (CDE) for the project serves as a single source of information for all project participants and provides a great deal of added value to our organisation. We use AR devices to gain a better understanding of our project, allowing us to position and visualise geo-referenced 3D models. When it comes to control systems, we are focusing on new functions for fleet management in earthworks. As soon as BIM models are available in the CDE, the construction machines are monitored online via special platforms. 3D models combined with GPS allow us to execute complex surfaces quicker and more easily. This allows us to use all resources efficiently, minimise material losses, and improve safety on the construction site. Automated control of the asphalt finisher also has many advantages compared to the conventional method. Our new tools for production monitoring – such as surveying with drones and photogrammetric data processing – aim to collect as much data as possible in the shortest possible time. This is not only more cost effective, but also improves quality. We integrate the data generated from the regular drone flights into the CDE.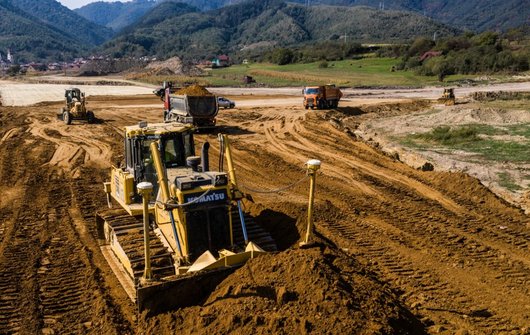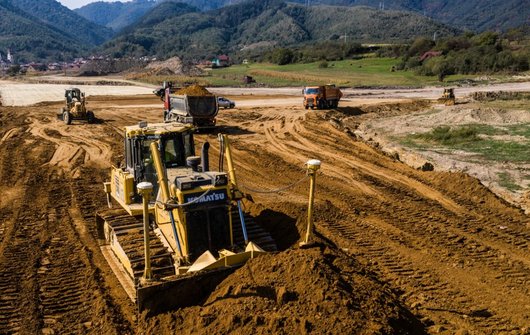 When implementing the new digital solutions, we ensure a smooth transition so as not to impair our productivity and workflows. Successful completion of a project, especially for us in the construction industry, depends on coordinated cooperation between several participants, some of whom are at different stages of digital transformation. Therefore, our innovation department is working on solutions for combining the new BIM technologies with existing 2D drawings and 3D models. We are already using BIM in several infrastructure projects. In the CF Vidra–Comana railway project, for example, we are using the insights from DeepSoil to implement LEAN. Our digitalisation strategy goes from one exciting stage to the next. We also want to apply everything we have learned to the new construction of section 4 of the motorway from Sibiu to Pitești and expand our expertise.